Jack Hunt''s ''Big Finish''
At the beginning of June, All Tutor Groups at Jack Hunt School were given a task of devising a company who could make as much money as possible from a loan of £5.00. In an "Apprentice" style exercise, every Tutor Group worked on a Business Plan which had to be submitted by the end of that month.
Students were then provided with a space in school where they could set up their stalls and sell their goods at the "Big Finish" which was held on the last day of term, 22 July 2009.
Events started on the day with an Inter-House Track Athletics Competition where Years 7 to 10, Sixth Form and Staff competed against each other which provided a chance for the House ethos and community spirit to really show itself.
Despite the bad weather, the Tutor Groups then went off to their designated areas to set up their stalls and students took turns manning the stalls and spending their money. Students bought anything from summer drinks and fortune cookies to wet sponges and water balloons to be thrown at Tutors.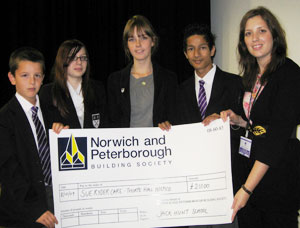 After paying back the £5.00 loans, a total of £2,111.38 was raised and the winning Tutor Group MBC, who made a whopping £65.00 profit, presented a cheque to Helena Waters from Sue Ryder Care during the Mandela House Assembly. As their prize, they all received a cinema ticket to a film of their choice.
Feedback from staff and students was very positive with such comments as, "It was a really good way to end the year", "great fun – can we do it again" and "that was the best last day of school I have ever had".
Nicola Treacy, Associate Assistant Headteacher said, "Thanks to all for taking part and raising so much money for a great cause".