Jack Hunt School Students Warned About The Dangers Of Driving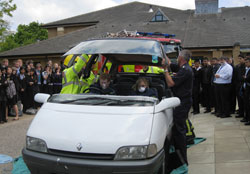 Jack Hunt 6th Form students were exposed to the realities of traffic accidents with an eye opening and informative demonstration which was organised as part of the Year 12 Personal and Developmental Education Programme.
The session consisted of a presentation by the members of Red Watch Fire Crew from Stanground Fire Station, led by Tim Thompson to all Year 12 students on the dangers new, young drivers face.
The presentation used statistics and real live accident cases to drive home the need to be vigilant as a newly qualified driver. It was particularly striking and forceful to hear accounts, from the firefighters, of their first hand experience of attending car accidents involving young people.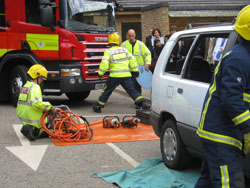 The second part of the session was a practical demonstration of how they attend and deal with car accidents which involved two students, Sean Tipping and Katie Throup, as volunteers being cut out of a car. Hopefully the students will be aware of the need to be responsible young drivers as the majority of them learn to drive this year.
Shaun Fricker, Head of Sixth Form said, "The demonstration really brought home how responsible a person needs to be behind the wheel of a car!"