Olympic Masterclass at JHS
On Thursday 16 September 2010 students from Jack Hunt School, The King's School and Stanground College undertook an Olympic Masterclass run by Olympic Swimmer, Suki Brownsdon and Nutritionist, Gill Horgan.
Suki swam for the City of Coventry for six years from 1992 and competed in four Olympic Games for Great Britain. She was only 14 when she competed in her first Olympic Games in Moscow which was quite an ordeal at such a young age. Having competed in the 100m breastroke, she was selected for the 200m breastroke in Los Angeles in 1984.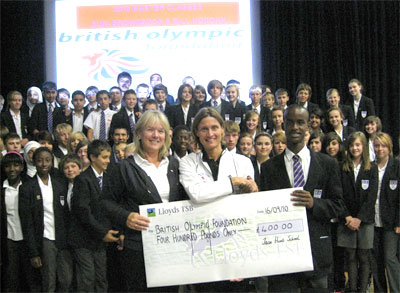 The Seoul Olympics in 1988 was her busiest as she competed in four events, but Barcelona remains her favourite as she managed to combine culture as well as competition.
Suki is among the Olympic legends whose achievements will be recognized to mark the Olympic handover from Beijing to London.
With the combined experience of Suki's practical swimming, and Gill's theoretical nutritional knowledge, it was an ideal partnership to engage and inspire the students and sporting stars of the future.
Suki and Gill ran four sessions in total, including GCSE PE students, A-Level students, Btec Sport and GCSE Dance students, plus those students identified as Gifted and Talented. Each session was specifically tailored to meet the demands of the target audience, including some delivery of exam specification material, expertly explained using 'real-life' examples. This proved an inspirational and motivating approach, and was met with enthusiasm from the students.
Over the course of the day, around 500 pupils benefited from the event, which served as excellent revision for the exam classes. To end the Masterclass, one of Jack Hunt's students, Mohammed Suge, was asked to present Suki and Gill with a cheque from Jack Hunt School, to go towards the British Olympic Foundation. This organisation helps assist young athletes in their preparation and training for the 2012 Olympic Games, and so is something we, as a school, are proud to support.