Sporting Success at JHS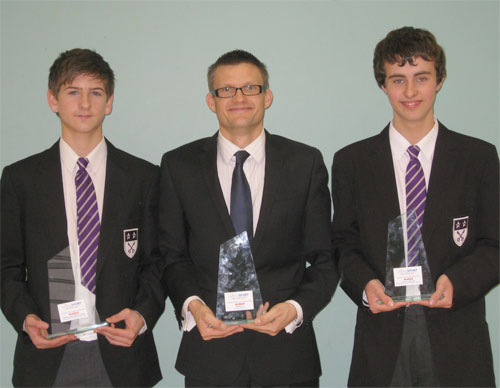 Jack Hunt School and two of its students received countywide recognition in three categories at the LIVING SPORT Sports Awards evening on Wednesday 17 November 2010.
Matthew Newton, Year 10, won the "Young Community Volunteer of the Year Award" in recognition of his fantastic volunteering work in both swimming and rowing. He has completed over 300 hours of volunteering through coaching, swimming, supporting with administration and assisting at indoor rowing competitions.
Lewis Hook, Year 10, reinforced his status as one of Peterborough's leading sports performers by winning the "Young Sports Performer of the Year Award" for his ongoing success in Ice Hockey. Lewis represented Great Britain at Under 13 and Under 14 where he Captained the team at a recent tournament in Canada. When he represents the South East he plays above his age at Under 16 level and has just signed a contract to continue playing with the Peterborough Phantoms until he is 19. He also holds the South East scoring record of 100 goals in 15 games.
The School itself won the "Rawlinsons School of the Year Award" for its outstanding Sports College work. There are many sporting success stories at Jack Hunt School including:
The development of leadership through Sports Leader courses and the Duke of Edinburgh Award;
Offering students of all ages a broad enrichment programme before school, during lunchtimes and afterschool. Over 40 different extra-curricular activities were offered last year;
Community Sport and Extended Schools initiatives that have developed a community wide boxfit club, supported local parents to train and volunteer in sport, started a dedicated sports club for hearing impaired students with Vivacity and the Peterborough School Sports Partnership.
All of the above and in addition to continually working to sustain high quality PE lessons for all students with targeted support for elite athletes is why Jack Hunt School is a worthy winner this prestigious award.
Assistant Headteacher, Chris Game said, "These successes continue to highlight our value of and commitment to PE and Sport at Jack Hunt School. We are really proud of the achievements of both Matthew and Lewis. They are working extremely hard to fulfil different personal goals and we wish them well in the future".