Enrol For a Chinese Day at JHS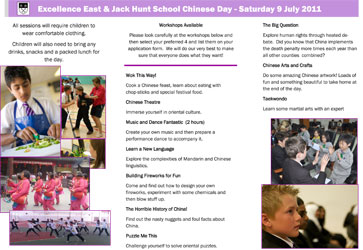 Excellence East and Jack Hunt School are holding a Chinese Day on Saturday 9th July 2011. Workshops will include Chinese cookery, building fireworks for fun, horrible histories of China, Chinese arts and crafts and much much more.
Details of all the workshops are available by clicking on the thumbnail on the left of this page. To book a place, complete the appliation form and return with payment to Jack Hunt School.