Day 4 - Lessons, Cinema and The Gym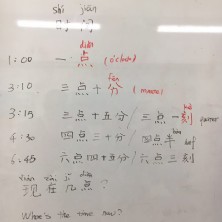 The first was a lesson led by CiCi who has worked with students from jack hunt many times before and has visited the UK
Today started with a breakfast of boiled egg, spinach and mushroom buns, sponge cake, and bready Yorkshire puddings. Quite a lot of our students enjoyed the cake but weren't so impressed by the greenery at breakfast! After we'd eaten, students made their way to join in with some Gold Apple lessons where they would be spending time with some of the students for homestay and the same ones who will be coming back over to Jack Hunt in the summer.
The first was a lesson led by CiCi who has worked with students from jack hunt many times before and has visited the UK. The lesson was on counting 1-10 in Chinese and also using the hand signals as well which are certainly more complicated than ours. This then developed into a lesson on reading the time in Chinese. This was very interesting some students were absolute naturals at this and took it all in their stride. It was lovely seeing their confidence growing, with more and more students volunteering to answer questions and practicing their Mandarin. Finally some students volunteered to come to the front to say a time and the others had to guess what it was.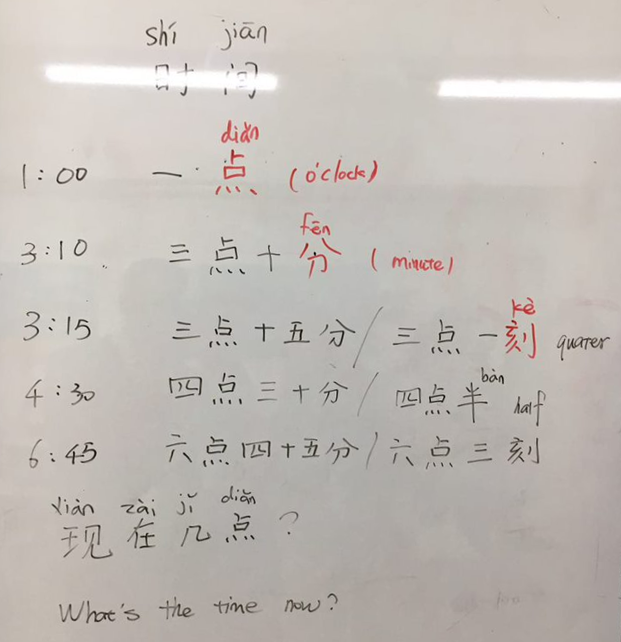 Unfortunately, our calligraphy lesson had to be cancelled so we went on a tour of the school instead, led by one of the senior students. We ended up playing a few more traditional games, one of which was similar to 'Duck, Duck, Goose' but more advanced. This was also a perfect opportunity for our students to meet their homestay friends. Once initial introductions were made, they fell into natural conversations and although some students were shy (from both schools) however they all made an effort with these new friendships. This will hopefully make the homestay next week a little easier.
After we'd burnt some energy, we joined the Gold Apple students for a history lesson looking at the causes of World War One. The students were mixed up with information about each country involved and they had to share their piece of information with the people in their group. They then did some class discussion about how their allocated country had played a part and the relationships that had been formed with different countries. Some students had some prior knowledge on this from their history lessons at home and were happy to contribute it to their discussions. Our final lesson of the morning was an art lesson where the teacher certainly looked a little shocked when 17 extra students turned up, the teacher this time was from Canada which again shows the multicultural aspect of the school as well. Our students were asked to go round and judge some of the pieces of art that were on display in various styles and right at the end of the lesson some of our students had the chance to win a one of a kind comic book wallet!
While all of this was going on some of the teachers were also getting involved as well, Miss Shirley taught an English lesson on poetry that was observed by some of the teachers in the international department so they could see how we teach in England, they always find this fascinating. Mrs Hudson from Middleton also delivered a lesson however this time with younger students in the primary part of the school. Again the topic was poetry, the teachers were amazed by the lesson and absolutely loved the style and the delivery of the lesson. Mrs Hudson commented on just how brilliant the students were and was shocked by the standard of handwriting and spelling the students displayed. Again this shows how much both parties get out of this exchange and partnership we have built up over many years.
Then onto lunch which consisted of seeded chicken, an unknown meat that one student decided was 'monkey brain' (definitely wasn't monkey brain), curried meat and potatoes, a very nice chicken and mushroom type thing, cabbage, rice and chips. After a quick change and time to collect money students were able to buy some sweet snacks from one of the stalls in the canteen for our trip to the cinema! The film was Kung Fu Panda 3 (I think they like showing this because of the link to China. Some students (and teachers) took this as a fantastic opportunity to catch up on some sleep! There was only a little bit of snoring! We let off a bit of steam in the fitness suite with people running, boxing, biking and using the various weights machines. Although they are all understandably very tired still we were amazed at the levels of activity and I think students really enjoyed it.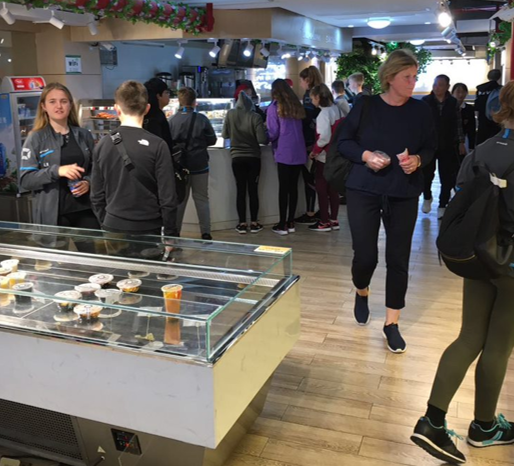 While this was going on Mr Cooke delivered some teacher training to around 50 teachers from the international department staff on the concept of differentiation which is just starting to come through over here. The curriculum is very exam focused and very rigid over here in China, parents want students to get the very top grades so they can go and study abroad, this means that differentiation in lessons in not something that is always evident.
Dinner was next which was probably the most successful of the week…… CHICKEN NUGGETS AND CHIPS!!! Students were very excited about the taste of home and it raised morale towards the end of another long day. Some of the teachers were taken out for a meal very close to school, we are looked after very well here. Cows tongue, ducks feet and pigs ear were among the highlights of a very interesting dinner where we met Rainbow, one of the gold apple teachers, who will be coming over in June as well as seeing Annie and Eko who were 2 of the teachers who visited last year. Back at school students were enjoying some card games in the boardroom on their swanky, swivelling chairs.
Finally when all the staff were back at school came the highlight of the day for most which was a trip to McDonalds, with the busy weekend looming and lots of new tastes and smells this week we thought it would be great for students to have a taste of home. An array of burgers, chicken, fries, drinks and ice creams were purchased before a short walk back to the school to burn off some of those calories!
Students are in their rooms settling down for what is a busy weekend of sightseeing whilst most of the gold apple students have gone home for the weekend. Although the last few days have been brilliant and they have all had a blast it will be great to get out and about and see some of the amazing places that Shanghai has to offer!
Thank You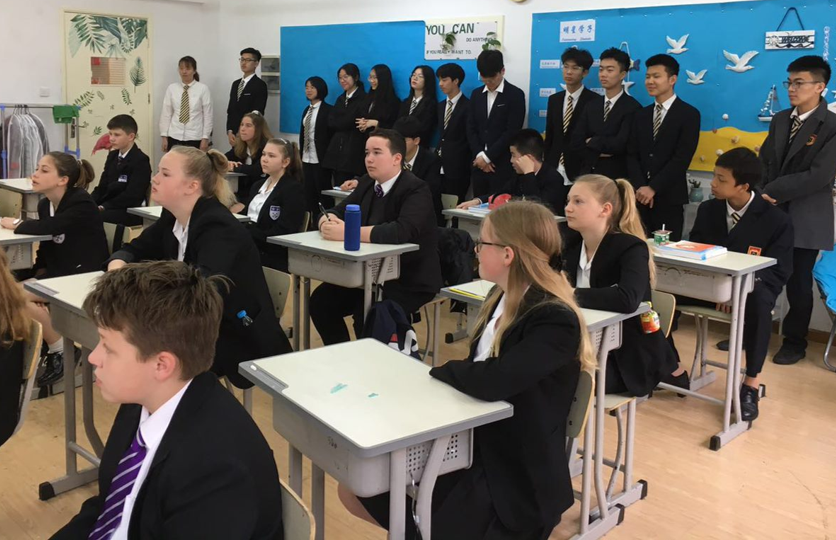 To see more images from our 2019 China Trip, visit the gallery page here!
The China Team