Day 10 - Homestay Recap, The Bund, and Downtown Shanghai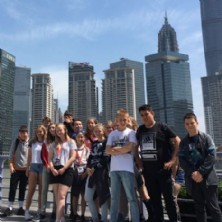 We welcomed the students back this morning with huge smiles on their faces which was fantastic to see.
We welcomed the students back this morning with huge smiles on their faces which was fantastic to see. With no time to waste we were off to the Bund to look at some of the older British and French concession buildings along with one of the original HSBC banks. We had a leisurely stroll along the Bund before heading into downtown Shanghai for a little shopping. We went into a shopping centre with a range of options but most went for Subway after having traditional meals for lots of the homestay I think a sandwich was well received by most. We continued to have a good look around before heading back to the Bund to get an ice cream and then head back to school.
Next, we went to the farewell party that was hosted by the Chinese students and the 16 that are coming over in the summer were all present, a number of speeches and performances followed from both the Chinese and Jack Hunt students. Iona, Ellie and Devonne performed a dance and then Lucy and Devonne wrote a thank you speech and outlined what the experience had taught us all. Gifts were then exchanged between staff and lots of photos were taken before our last meal at the Gold Apple School for another year. After dinner we gave the students some time to pack before heading to the supermarket for one final time to get any last gifts and treats for people at home. Today was our longest walking day I think of the whole trip, clocking up 27,000 steps which is about 19km! This takes the count for the last 10 days bearing in mind one day was on a plane to around 175,000 steps which is somewhere in the region of 125km!!! After this we gave the students time to play some cards and write a blog entry on their homestay which is below. Final packing is just about finished and we will update with a Jack Hunt arrival time via email after we land at Heathrow.
Over to the students…
Alice and Ruby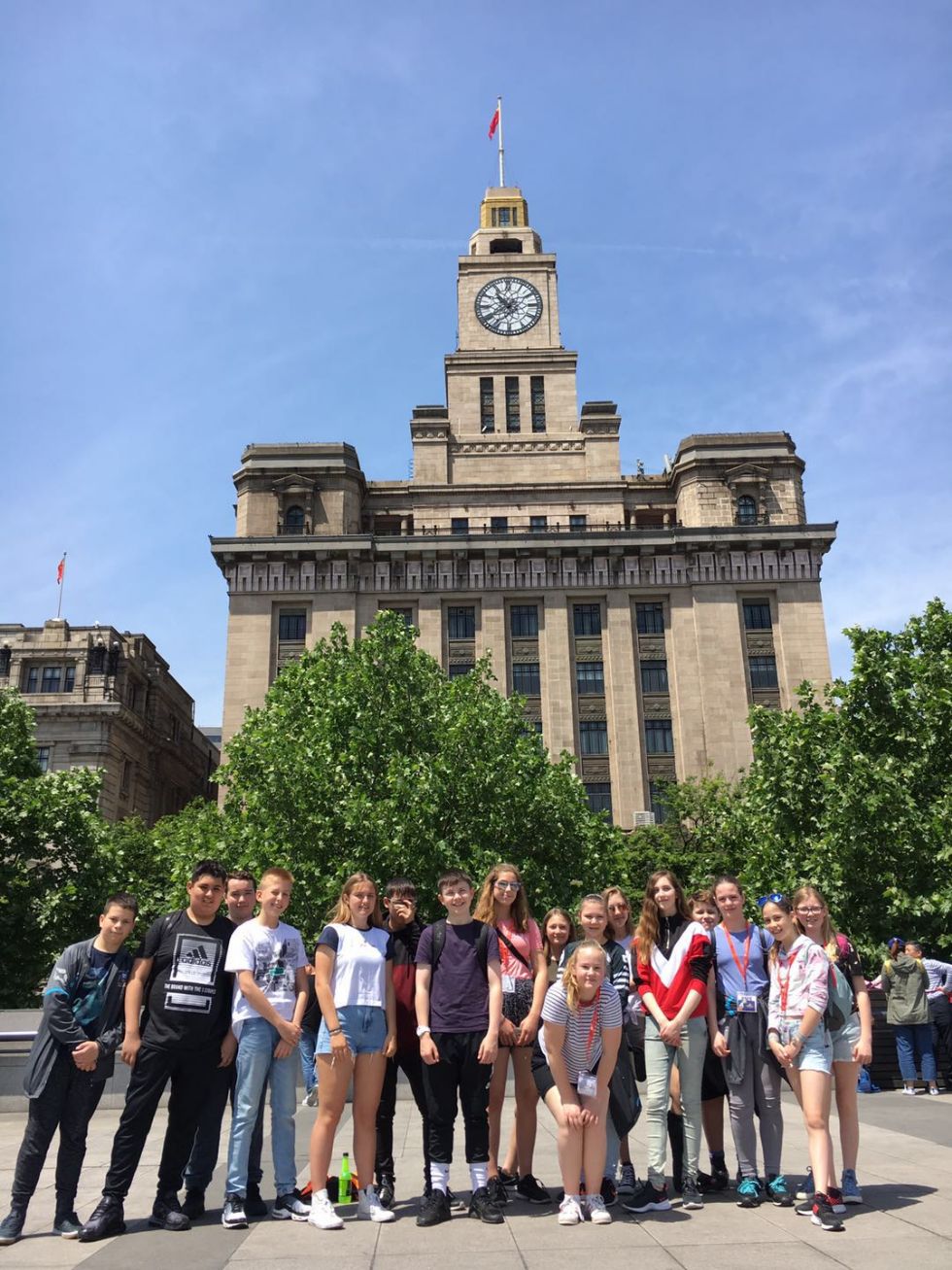 We have just got back from homestay with Nancy, it was a really good experience and we found out that they love feeding us and we got a lot of food. We visited some old traditional Chinese streets and visited a Chinese zoo it was different but amazing. We also got a back and foot massage and it was very relaxing and peaceful. The family were very nice and we got to meet Nancy's mum, dad and little brother along with a 7 month old cousin. Nancy's English was good but the others did not have great English but we managed. Our favourite part of the whole trip has been teaching the younger students in the Gold Apple and Zhujaijaio.
Iona and Vicky
We had a great experience on our homestay and really enjoyed it. When we get there we were shown our lovely room and given snacks, toothbrushes and toothpaste. The room was beautiful with a king-size bed an ensuite bathroom. For dinner we had pancake wraps with vegetables, noodles and meat. Then we made stamps and had a mini calligraphy lesson. The second day we went to watch the new Marvel movie, Endgame which was awesome! After this we ate traditional hotpot which is a big pot in the middle of the table that you add all the ingredients to yourself and wait for them to be cooked, it was delicious! Then we went shopping and went to some arcades and won some teddys and got some more gifts for home. We went to a Chinese escape room and took the subway to get there, it took a lot of translating but it was fun and we escaped. For dinner we had Mcdonald's and by the end of the day we were shattered. The family made us feel at home and our stay was very luxurious. Our favourite bit of the whole trip has been Zhujaijaio as it was so authentic.
Lucas, Edgars and Inder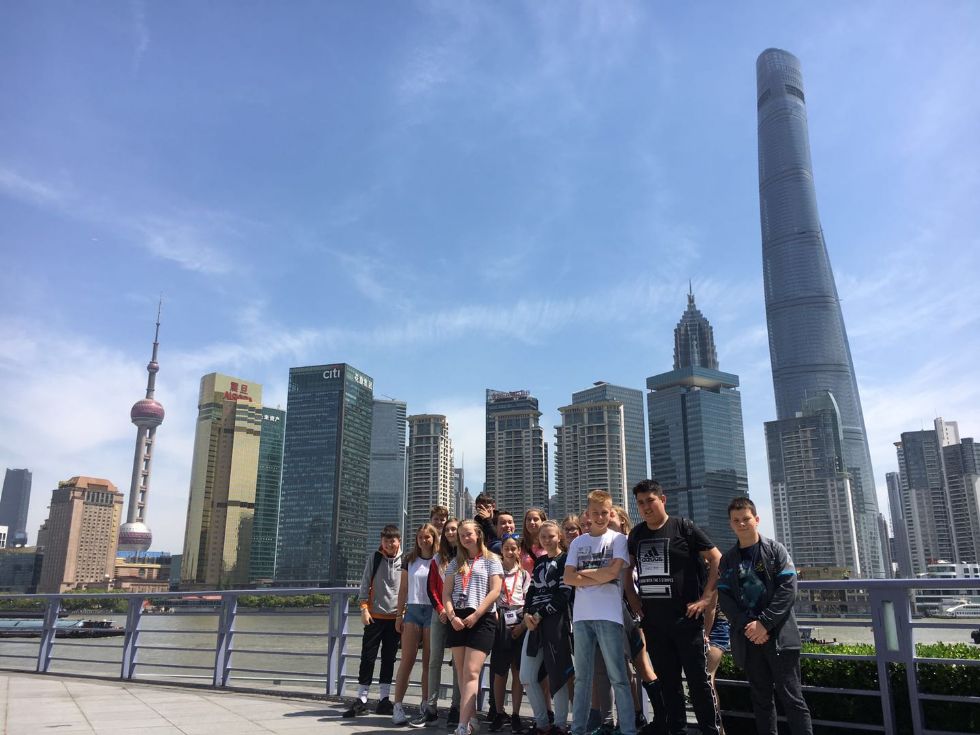 The three of us stayed with Lonly and his family, this was such an amazing experience which we can say we all enjoyed. On the first day we went to a huge supermarket called Sam's, we were amazed by the most random things. After that we dropped our bags off at their house and we had a huge meal with lots of extended family, we made dumplings together and ate them at the meal, it was really cool as they had decorated the restaurant with Chinese and British flags just for us. We then had our first proper sleep really. On the second day Lonly's dad and his family friend took us to Yu Gardens where we had pizza and traditional Chinese snacks. After that we went back to Lonly's house and ate Chinese food with a lot of different and strange foods including chickens feet. After the meal some of us went to see the new Marvel film and Lucas stayed behind and drank traditional Chinese tea and ate Chinese fruits with some of the family. We then had KFC in the evening and for breakfast today, we were very well looked after. This whole experience was amazing and we would love to do it again. Our favourite bits of the trip have been the night cruise, homestay and the pearl tower.
Ellie and Maisy
Our homestay student was a lovely young man named Leo, despite being nervous at first we had an amazing time. We stayed in a hotel and went out for Italian food on the first evening before getting a lovely sleep in our big beds. We woke up to a day full of wonders, first we went to Leo's house for breakfast which was nice to see where he lived and then Yu Gardens which was a beautiful place and had lots of culture in every direction. Next we travelled to the Shanghai Grand Theatre and had a private tour as Leo's dad was one of the managers there and it was gorgeous. Then we walked to the centre of Shanghai that was built around a hotel, after a dinner of the best noodles ever we headed to a traditional Chinese market. We were then back to the hotel for another lovely sleep, homestay was one of the best parts of the trip. Our favourite bit of the whole trip has been the teaching and Zhujaijaio.
Devonne and Lucy
We were with John for our homestay and on arrival we were welcomed by the whole family, after being shown to our room we were entertained by his little brother doing lots of tricks on a treadmill, LOL he was a joker. In the evening we were taken to the cinema to see Avengers and Devonne spilt popcorn everywhere LOL. We were then able to try many weird and wonderful foods including snake, crab, frog and octopus. There wasn't a moment in which we were hungry, the mother was very kind and bought us many gifts which we were very thankful for. We went to Yu Gardens and a museum on the second day and had traditional hotpot. We had a fantastic time and hope to stay in contact with John the Legend. Our favourite bit of the whole trip has been the Pearl Tower, the river cruise and teaching.
Sophie and Ava
We stayed with Stella and she was really sweet, we stayed in a hotel and before arriving we went to their house to meet the family and played some instruments and had some traditional food. We stayed on floor 18 of the hotel and had the biggest room in the place as the father owned the hotel. After unpacking we went to the supermarket and they bought us gifts even though we offered to pay they were having none of it. We ate traditional Chinese hotpot with chopsticks and we loved it before we had a great sleep. We were up early the next day to go to Disneyland, breakfast was dumplings, sausages, beans, fruit and pain au chocolat before a trip to Starbucks. Disney was amazing going on some of our favourite rides from Sunday and experiencing some really cool new ones like camp discovery. We had lunch and dinner at Disney before staying for the fireworks and getting some souvenirs and heading back to the hotel. The homestay was amazing and they were so kind, generous and sweet and we enjoyed spending time with Stella, her mum and dad and younger sister. The best bit of the whole trip has been Disneyland and the river cruise seeing Shanghai lit up at night. Also the Gold Apple has been amazing.
Aidan and Billy
We stayed with Mann and his dad for homestay. We walked less than 500m from school to his house, on the first evening we went to a steakhouse which was a nice change from traditional Chinese food. Wednesday morning we got up early to go to the Shanghai museum to have a look around and ate at a Japanese restaurant for lunch. We then went to the popular tourist attraction Yu Gardens which was very scenic but also very busy. The gardens however were very tranquil compared to the bustling streets. We had Papa Johns for dinner that night and went to the cinema to watch the new Avengers film which was great. Our favourite bit of the whole trip was the teaching and the river cruise.
Luke and Max
We stayed with Royce and his family. On the first afternoon he taught us how to make traditional Chinese dumplings, after we ate the delicious dumplings with his family. We then exchanged gifts and went to see the new Marvel movie Endgame which was very fun and exciting. The next day we had a traditional Chinese breakfast including dumplings, soy milk, pork chops and melon which was lovely. After we went to the Shanghai history museum which was very nice and we saw traditional Chinese calligraphy, hand crafted statues and ancient weapons. We visited Yu Gardens, ate more dumplings and more traditional food before going over the lucky Jiu Bridge which was incredibly busy. We then flew a kite in the second biggest park in Shanghai before heading off to dinner. This was at a very posh and expensive Japanese restaurant that Royce's uncle owned along with another one on the same street but that one was fully booked. We ate caviar, king crab, sashimi, lobster, marine bay and lots of other seafood. Homestay was absolutely amazing and one of the highlights of the whole trip along with the night cruise and seeing all the famous building lit up.
Hope you have enjoyed reading these, this will be the last one. What a great memory for students to look back on for years to come!
Thank you
The China Team