School Governors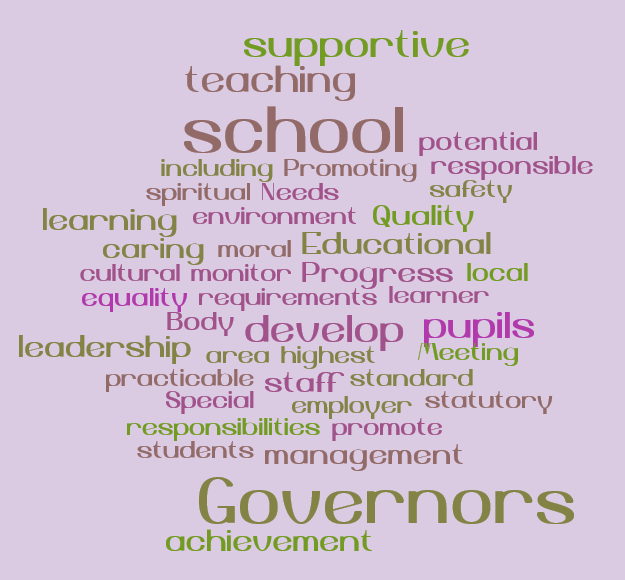 For parents wishing to raise a complaint or concern with the Chairman of the Governing Body, please direct communication to:
Niamh Walsh
Clerk to the Governing Body
Jack Hunt School
Ledbury Road
Peterborough
PE3 9PN
Telephone: 01733 263526
The Full Governing Body is responsible for ensuring Jack Hunt School provides high quality learning and teaching in a supportive and caring environment to develop the potential of each learner. Its responsibilities are to monitor and promote to the highest standard the following:
Progress and achievement for all pupils at the school
Quality of teaching and learning at the school
Behaviour and safety within the school and, where practicable, the local area.
Quality of leadership and management of the school.
Additionally the Full Governing Body is responsible for:
Meeting all statutory requirements applicable to both staff, as an employer, and students
Promoting the spiritual moral and cultural development of pupils.
Ensuring equality for all; including those with Special Educational Needs and Disability
Who's Who?

Peterborough Keys Academies Trust - Jack Hunt School - Local Governing Body
Membership of the Local Governing Body - February 2020
| | | | | |
| --- | --- | --- | --- | --- |
| Name | Type of Governor | Date resigned (where applicable) | | |
| ASKEW Sophie | Trust Appointed Governor | December 2019 | | |
| CLEMENTS Tim | Trust Appointed Governor | | | |
| FAZIL Rozina | Parent Governor | September 2019 | | |
| DALTON Ruta | Trust Appointed Governor | | | |
| SADLER Alan | Trust Appointed Governor | 26th June 2019 | | |
| WHYMAN Steve | Parent Govenor | | | |
| SHABIR Rakhsar | Parent Governor | 6th January 2019 | | |
| BANBURY Simon | Parent Governor | | | |
| KILBEY Pamela | Headteacher | | | |
| SIMPSON-HOLLEY Kate | Headteacher | | | |
| BLANT Richard | Staff Governor | 29th October 2018 | | |
| BRACKEN Vicki | Staff Governor | | | |
| CHURCH Rachael | Trust Appointed Governor | | | |
| RESHI Shaukat | Parent Governor | | | |
| KING Andrew | Trust Appointed Governor | | | |
| CLIFTON Laura | Staff Governor | | | |
| BANKS Claire | Trust Appointed Governor | | | |
Current Governance vacancies:
Parent Governor vacancies: 1
Trust Appointed Governor vacancies: 0