A Final Day of Farewells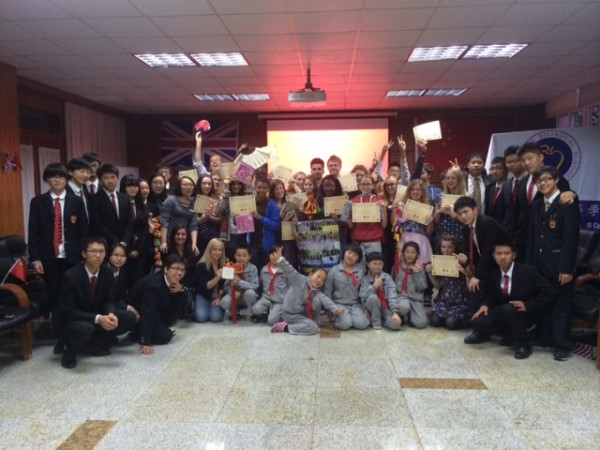 Today has been our final day of activities; it seems that we have been here for a very long time in many ways, however in others it seems that the time has flown by.
This morning students were in lessons with the students who were studying for the Western Australian Certificate of Education – these were lessons designed so that the Chinese students could talk and discuss with our students aspects of culture, country and tradition, a wide range of activities were undertaken and good spoken English modelled.
This morning Mrs Akhtar and I had a meeting with the principals of all the partnership schools and the senior staff from the Gold Apple School. Also the former party Chairman of the school, Mr Hu, (who was the first member of the Gold Apple School to visit Jack Hunt – six years ago) the school owner and Patty Yu who is our link in the British Counsel in Shanghai. The aim of the meeting was to review the links so far, as we have had a partnership now for 6 years and also to look ahead at how the partnerships and links can strengthen and develop. We clearly had a lot to discuss as we started at 9 am and went through to just before 1 pm!
This afternoon was time for students to pack (!). If you have time to get your washing machines survived before we land that may be a wise idea! Also, to prepare for the final party.
This afternoon I taught an English lesson, again this was a demonstration lesson with parents watching – this lesson as with Mrs Akhtar's yesterday were to demonstrate teaching so that the parents will sign their students up to the Cambridge International Examinations course. So no pressure!!
The rest of the afternoon was relaxed, it was good for the student to have a bit of time to rest as we have been busy and have a long day of travel ahead.
This evening we had the farewell party. Students were presented with certificates and posters and votes of thanks were given by staff and students from both schools. There was also some entertainment and we were really impressed by the musical turns led by Ayesha, Georgia, Amy, Kiri, Kimberley, Emily and Charlotte. The standard was so high that Mr Crawley and I decided not to perform our rendition of 'aga-do' as we feared that the students would be very upset if we upstaged them! We had a birthday cake for Emily, it is her birthday tomorrow and so we had an early celebration. Then back to the dorms for final bag stuffing.
We are about to have a final meeting with Eileen. Departing to the airport tomorrow at 7.30… then home!
See you all soon!
Martin Barwise