A Full Day Teaching for the Jack Hunt Students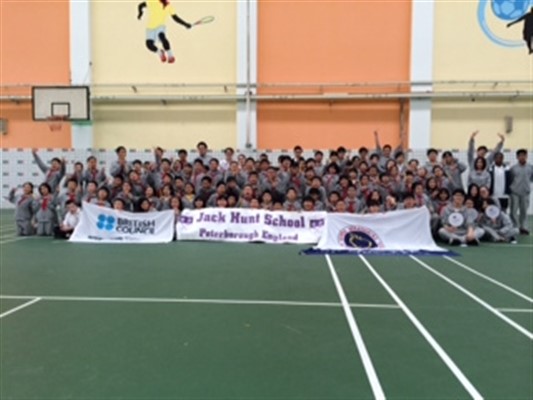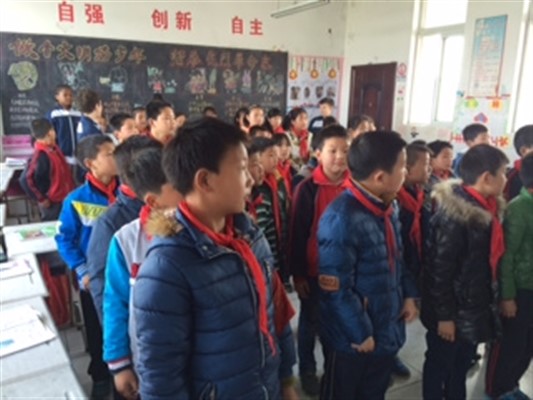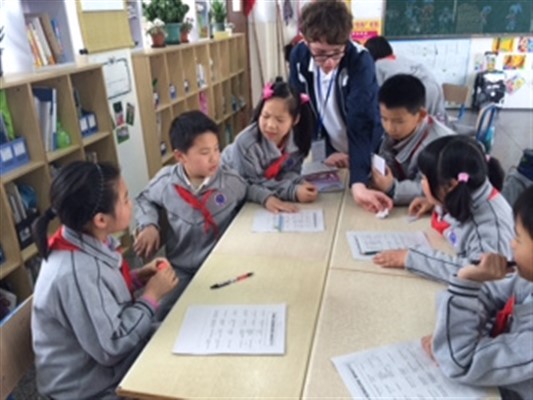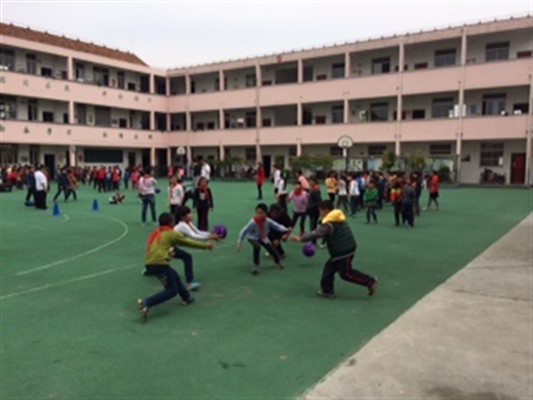 The students today experienced what it felt like to be a teacher for the day. We woke up to bright sunshine and the Chinese students taking part in their early morning exercises at 6.15am on the running track. This was just as I had to go in and wake our boys up! Breakfast this morning was a delicious noodle soup and hard boiled egg. I definitely think the Chinese need to be introduced to soft boiled egg, with a few toast soldiers!
After breakfast we headed out to Pu Guang school, this is a school for the children of migrant workers, some of the poorest residents of Shanghai, and a very different school to the ones that we have visited already, class sizes are high, reception is 75 students. It was about an hours journey, so Mr Barwise had ample time to add to his sleepy selfies folder. On arrival at the school we were greeted by half a dozen happy/smiling young boys who wanted to carry our bags for us. In the school we were led up the stairs to a classroom of 41 students. We were prepared to lead a 30 minute English lesson and an hours dodgeball session, but as with most things when we arrive, they don't always run to plan. We were put on the spot slightly and introduced to the class and asked if we could lead an additional 20 minutes English, there and then. So not to disappoint the young children, our Fantastic Jack Hunt Leaders, introduced themselves in Mandarin and English, and organized themselves to lead and sing 'Head, Shoulders, Knees and Toes'. The Chinese children were a little unsure to begin with, but soon got the hang of it and were singing away and doing all of the actions. I think 20 minutes of 'Head Shoulders, knees and Toes' must be a record! We had a short 5 minute break, before taking he English lesson. We decided, as it was a fine day we would take this outside. A continuation of the song, before making it into the traditional, boys versus girls competition proceeded to take place. I think you'll see from the photographs the children really understood the song and had a great time!
Break time - All of the Chinese students came out for break time and flocked to say hello, smile and wave at all of our students. They were so happy to see them. Our students were so good with all of them, smiled, took photos with them and tried to communicate with them. Again so many pictures that will paint a thousand words.
Once break time had finished it was over to the dodgeball session (With limited equipment)! The 41 students were again split into 4 teams and worked with, Omar, Will, Euginie, Rhys and James, overseen by Freddie and Jess. The explaining of how to play stuck in the mud took some time. Once we all thought it had been explained it was GO!...... Well the Chinese students were off, all over the playground, everywhere, trying to contain them in a smaller area was a challenge, but our students did fantastically well. Moving on to trying to explain and demonstrate dodgeball was going to be a challenge. The games seemed to start with a small wrestling match between teams trying to get the ball before students running everywhere to try to throw the ball at the opposition. After some minor adjustments, and some vigorous pointing and shouting we managed to play a small tournament with all the Chinese students.
As a reward for their fantastic effort all Chinese students received a Jack Hunt pen, ruler, wrist band and foldable Frisbee. The expressions on the faces of these small children was a sight to see. After many goodbyes and some more pictures we had to return to the Gold Apple School.
This afternoon, the students were again leading an English lesson followed by a multi skills festivals. The English lesson was with 3 classes of 8 year olds. Our students had planned a pupil bingo sheet, Pictionary with play doh and Simon says. They had split themselves into 3 groups assisted by members of the Gold Apple School Student Union to help with some translations with the younger students. The session lasted for 35 minutes with many of the Gold Apple students developing their English questioning skills. From here we moved straight into the main sports hall and were joined by a further 12 members of the student union who help lead the multi-skills festival to all 80 students. The 8 year old students experienced a range of practical activities including basketball and football dribbling, problem solving skills, passing water from cup to cup only using mouths, skipping, target throwing and balancing activities. Each of the Jack Hunt students worked with a member from the Gold Apple School and it was clear to see that the activities ran extremely smoothly and to time. The Jack Hunt students really got into the teaching and leadership role well. The end of the festival was closed by Jess and Eugenie handing out various rewards and gifts to the younger students.
One Jack Hunt student commented 'Sir, my legs and feet are hurting so bad, I'm shattered! Now I know what it's like to teach all day'.
This evening the students mixed with the Gold Apple Student union and all made dumplings for tea together - Very nice!
All students have met up with the students who are hosting them over the weekend and seem happy, most of them have downloaded 'WeChat'. A Chinese version of 'WhatsApp' so when they have Wi-Fi they can contact each other. Vivi, Pexy and Justin (The Hosts) were already discussing about meeting up with everyone, what foods do they like? What would they like to do? What films to watch… as one has a cinema in their basement! So everyone seems happy and confident about going home on Friday.
This evening Mr Barwise had a meeting with the Pu Dong Education Bureau to plan the connecting classrooms 7 school partnership visit. As tends to be the Chinese way the programme is expanding and it looks like we will be hosting more than the 7 students that we planned for!!!
Tomorrow is an extremely early start. We're catching the 8am Bullet train from Shanghai to Nanjing. This means leaving school at 5.55am. It's going to be interesting waking the boys up at 5.15am?!?!
Regards
Mr Smith