Day 4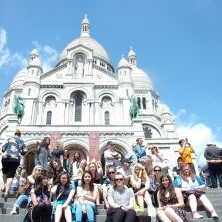 Today was very busy again with our second gallery visit. We went to the museum of the Orangerie, a gallery designed by Monet himself when he gave his paintings of the Water Lilies to the state after the first world war to give the people of France a place to relax and the his paintings.
After the museums, we walked to Place Vendôme and the Opera. A little more shoppin in the Galleies Lafayette before we had a quick lunch. We then made out way to the Sacré Coeur and Montmartre.
We will have dinner in another restaurant tonight, near Gare de Lyon this time before going on our river cruise: a perfect way to see all of the monuments.