Coffee Morning Makes Money for MacMillan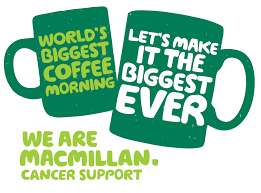 Last Friday, 30 September, Head of Curie House Mrs Davison organised the annual Macmillan Coffee Morning. Members of staff to provide cakes to raise funds for MacMillan Cancer Support. It is a charity close to Mrs Davison's heart as her family has benefited from their essential support.
The event was held in the main staffroom at lunchtime, when staff were encouraged to bring a mug to enjoy a cuppa with their cake for a suggested donation of £1. There were lots of delicious homemade cakes and biscuits on offer and there was also a raffle to win Jamberry nailwraps and kits.
Mrs Davison said "I just wanted to say a big thank you to everyone who baked a cake or bought cakes & raffle tickets last Friday. We managed to raise an impressive £236.66 which will be sent off to the charity next week and I know they will be grateful for this."