£500 raised for Sue Ryder Hospice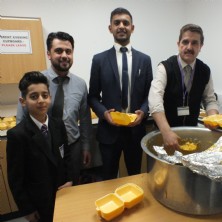 Staff and students at Jack Hunt School, like many members of the Peterborough community, were horrified that someone could have stolen the Hospice's charity box on Christmas Day.
Therefore on Friday 12 January 2018, Dr Nawaz along with Mr Shehzad, Mrs Akhtar, and Jack Hunt School students, organised a fundraising Biryani Day. Portions of Hyderabad Biryani, a spicy, sweet and tangy dish, accompanied by scrumptious chicken and vegetable samosas were sold to staff and students. The Biryani was provided by Amer Rafiq, of Rafiq Caterers. Mr Rafiq has provided the school with Biryani a number of times, always at a discounted price allowing us to donate the maximum possible to the charities we support. In addition there was some Indian style tea, provided by local Café, Chiiwala.
On Wednesday 24 January 2018, Mr Rafiq joined the staff and students to present Cheyenne Graves from the Sue Ryder Hospice with a cheque for £500. This included a very generous donation from Mohammed Nanji of Netherton Pharmacy.
Cheyenne Graves praised the school, 'We are just so grateful for the support. It's so lovely when the community comes together.'
Mrs Kilbey said, 'As a school, we feel it is incredibly important that our students learn to be active members of the community supporting a whole range of local, national and international causes. We have supported the Hospice for many years with an annual fundraising day dedicated entirely to them, but the theft of the charity box was so appalling that we wanted to give additional support. Thank you to Mr Rafiq, Mr Nanji, the staff and students who ran the event and all the staff and students who supported it.'