Hereward Cycling Club Achievements.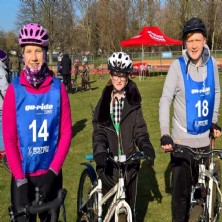 Students at Jack Hunt School gain awards in Hereward Cycling Club.
Hereward Cycling Club runs sessions every Saturday morning at Jack Hunt School. The members of the club take part in games and skill excercises designed to improve their riding ability each week.
Over the last few weeks, the club has held a series of races for its members. Pupils from Jack Hunt School who are in the group have managed to attain several impressive commendations.
One of these students is Adam, who achieved first place in an endurance race and then won second place in a sprint, securing him gold overall in the under 16's category. Devonne had a similar story, attaining first place in the sprint and second place in the endurance race, achieving gold in the under 14's category. We also have Catherine who managed to push her way through the competition and take silver in the under 12's group.
All of the students involved in the Hereward Cycling Club have said they are looking forward to their upcoming races and are planning on achieving even more awards.
Our PE Technician and Cycling coach Stephen Braby has said "Throughout the meets, we have been given the opportunity to raise some money; so far raising £258.65. All the money has gone towards Sue Ryder Hospice who has been kindly hosting the race meets."