Language and Culture Day 2018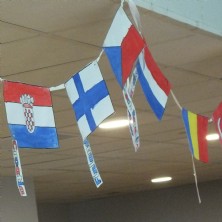 Jack Hunt School's Language and culture day was a chance to learn more about the world and its people, go around the world in 30 Minutes!
The school's main hall was bustling on Thursday 6 May 2018 with keen and excited students learning about various different countries and languages. 95 dedicated students worked extremely hard to produce 21 different exhibitions with Countries from all Continents being represented.
The individual exhibitions consisted of displays showcasing various cultural traditions such as: Henna Art, African tribal face masks and painting, Indian bindis, arts, music, food samples, language taster sessions and facts about the countries. Alongside all of this were various quizzes, tasks and competitions for the audience to partake in.
The whole school was involved in many cultural and language based lessons and activities to mark our 8th annual Language and Culture Day. Year 7 students teamed up to help create flag bunting which was used to decorate the hall; Tutors ran a variety of cultural quizzes and competitions with their tutor groups to further extend our strong International Education ethos. To add to the occasion the school canteen served food from various different countries and the library was also involved in running several cultural/linguistic brain teasers.
The audience, both staff and students commented on the efforts of the students and the vast amount they have learnt.
Sarah Ahmed in Year 8 represented the Bangladesh stall and made the following comments: "Language and Culture Day was amazing again! The stalls had lots of food and activities set out along with music to go with the traditional cultures. The best Stall in my opinion was Pakistan. The food was amazing, the stall was set out with lots of traditional colours and gave you a chance to have some Henna art sampled. Language and Culture day has been an amazing experience to check out the different cultures and traditions around the world."
The day closed with Mrs Kilbey handing out trophies, she commented that all the exhibitors are winners. All 95 of the students involved in the event will receive certificates and house points for their participation. Although it was almost impossible for Mrs Kilbey to select four winners out of the 21 exhibitions displayed, the Urdu/Pakistan stall was awarded first place, India and United Arab Emirates came joint second, Lithuania was third and finally Saudi Arabia/Islam were fourth place.
The event was indeed similar to "going around the world in 30 minutes"!
Ms Hayat - International Education Coordinator
Mr Nawaz - Deputy CAL MFL
First place: Pakistan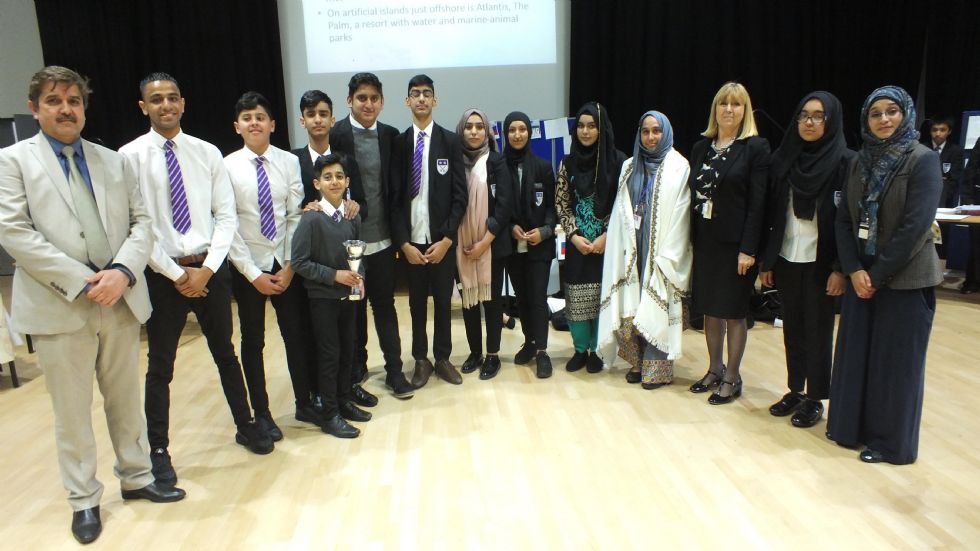 Joint Second place: India and United Arab Emirates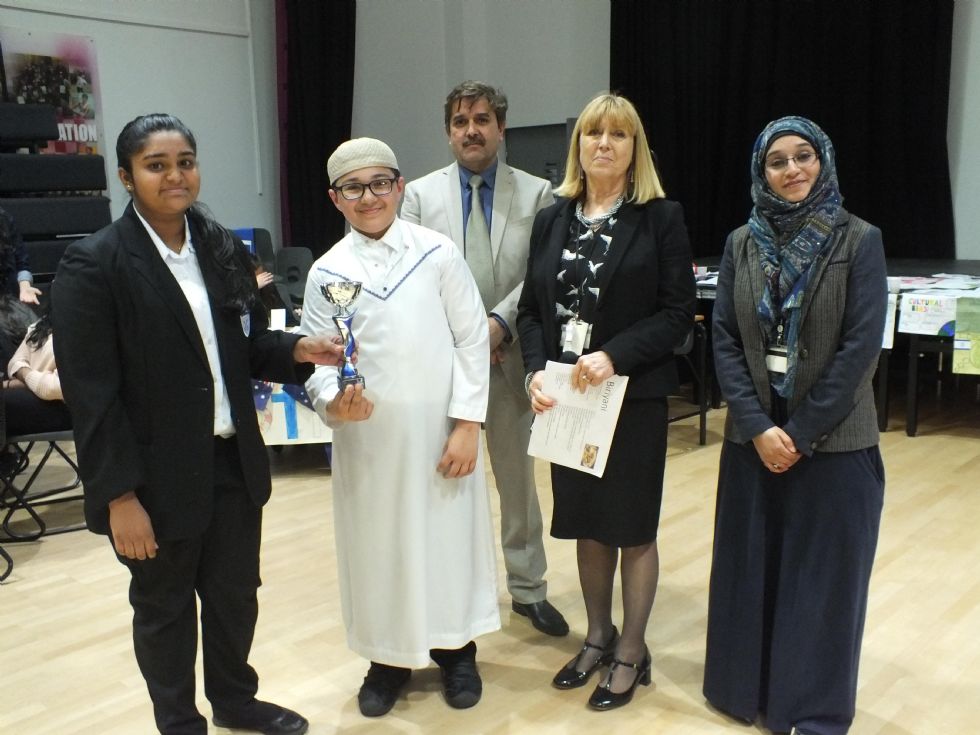 Third place: Lithuania Fourth place: Islam/Saudi Arabia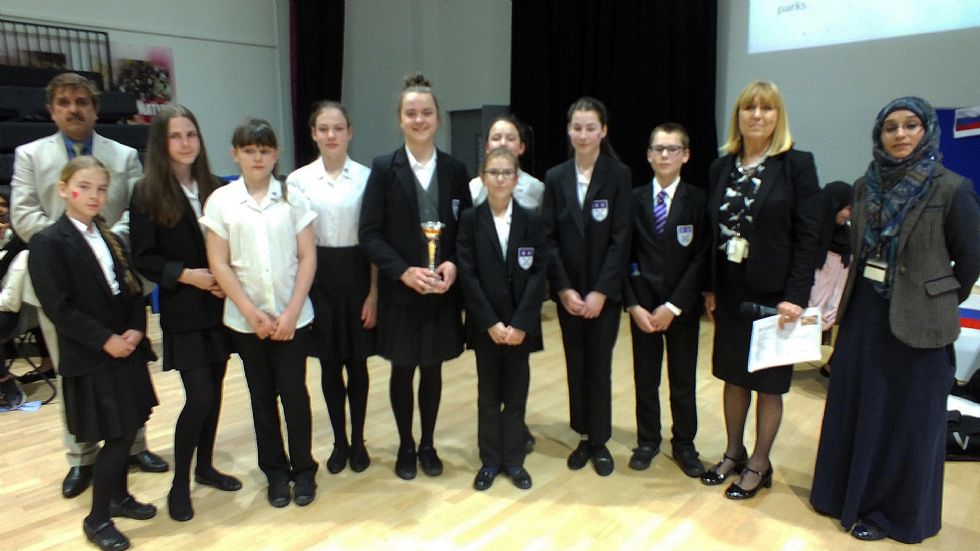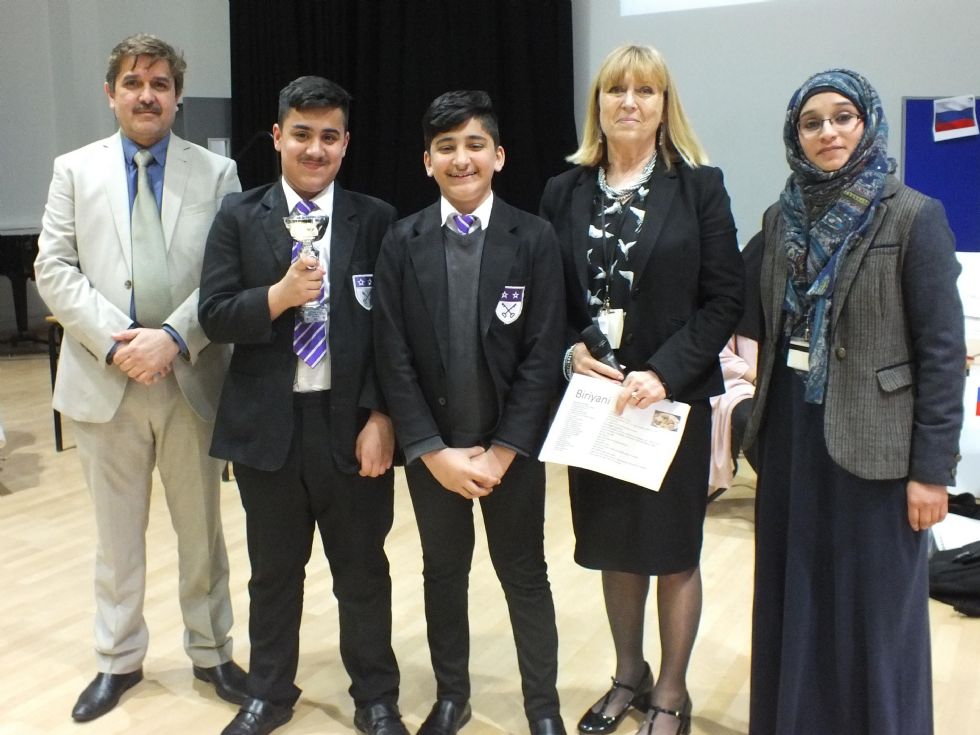 For more images from the event please head over to the photo Gallery: