Liddington Netball Tour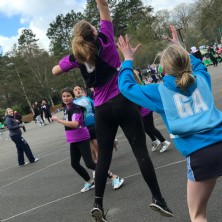 Key Stage 3 girls headed to Liddington for Jack Hunt School's first Netball Tour
Many key Stage 3 girls have shown a high level of commitment towards netball training and matches this year, which inspired Miss Bracken to organise Jack Hunt's first netball tour. Knowing that our students relish a challenge, PGL's offering of a netball tournament with the addition of unlimited outdoor adventurous activities seemed like the obvious option.
On arrival we were greeted by Ean, our crazy rep who could make dolphin noises with his ears and eyes! He became an honorary Jack Hunter for the weekend, teaching the girls card tricks, boring them with his awful jokes and leading several of the activities. This included a selfie photo challenge that resulted in all twelve girls squeezing into one tiny space; fortunately staff were exempt from this task!
The girls were clearly nervous on the first morning of netball, in which they played four sixteen minute matches against predominately independent schools. The team conducted themselves incredibly well and were not intimated by the more established teams and held their own in every match. They finished the first day with a 2-0 win against a school from South Wales, which put the team in good spirits ahead of their afternoon of adventure.
Zip-lining was the team's favourite activity: some girls flew down the line almost 10 times over the course of the weekend! Other offerings included archery, aero-ball, climbing and abseiling with many students overcoming anxieties and fears linked to heights to complete these activities. We were very fortunate that although it was windy, the rain held off which meant the girls could maximise their time outside and make full use of the centre's fantastic facilities.
Gauging by the sleepy faces that appeared at 6.40am, the early Sunday morning start was possibly the greatest challenge of all for some of the group. A cooked breakfast did the trick at waking them up though and they were soon outside warming up again in preparation for their final morning of matches. An unexpected win against a school from Portsmouth was a great way to finish the weekend and watching the finals where the standard of netball was incredibly high inspired the girls to progress their own play.
To ensure not a penny of their spending money returned home, the gift and sweet shop was raided for a final time before we said our goodbyes to Ean and left the Liddington centre. All in all, this was a thoroughly enjoyable trip and worthwhile trip for all with huge improvement in the girls' standard of play throughout the weekend. They conducted themselves impeccably throughout and were a credit to both their families and the school. Plans are already in place to return next year, watch this space!