Language and Culture Day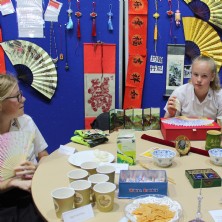 Students participate in a range of activities to highlight and celebrate countries and cultural traditions.
This year marked our ninth annual Language and Culture Day and we celebrated in our usual Jack Hunt School style. Without a doubt the purpose of this day was to provide students with a platform not only to showcase their heritage but also to explore the increasingly diverse world around them.
The 102 participating students prepared exhibitions, performances, presentations, dance, music, art, competitions, challenges and food from countries and cultural traditions from all continents around the world.
We had the following countries, traditions and groups represented this year:
England

Wales

Ireland

Scotland

Islam/Saudi Arabia

China

Poland

India

Pakistan/Urdu

Sri Lanka

Bangladesh

Send My Friend to School

Fairtrade

Portugal

United Arab Emirates

Italy

Lithuania

French

Spanish

Jamaica

Mexico

Egypt

Afghanistan

Czech Republic

Philippines
The individual exhibitions consisted of displays showcasing various cultural traditions such as henna tattoos, African tribal face masks, painting, Indian bindis, arts, music, food tasting, language taster sessions, and facts about the countries along with various quizzes, tasks and competitions for the audience to partake in. Throughout the day various prizes were won by the attendees. Several copies of the Holy Qur'an were raffled at the Islam stall, the UK stall gave away free copies of the New Testament, the Send My Friend to School stall gave away free T-Shirts to winners whilst actively campaigning for awareness on this global dilemma, the Fairtrade stall handed out many freebies along with a very strong message, i.e. ethical trading.
It doesn't stop there! The whole school was involved in many cultural and language-based lessons to mark the annual Day. Personal Tutors ran a variety of cultural quizzes and competitions with their tutor groups to further extend our strong International Education ethos.
To add to the atmosphere the canteen was decorated with flags and interesting facts about other countries. The menu was definitely a mouth-watering global feast, at break they served African Puff Puff, Chinese Spring rolls, Indian Samosa and Italian Pizza. The lunch menu was African BBQ Chicken and Joloff Rice, Chinese Sweet Chilli Tempura Vegetables, Chinese Noodles and Italian Spaghetti Bolognese. Finally they served Cassava Cake originally from the Philippines.
Over at the school library a variety of activities were ran throughout the day to promote the 55 different languages spoke at Jack Hunt School.
International Student Leader, Bobin Abraham commented as follows "I feel educated by the whole experience. We feel like a team coming together representing community of unique traditions. It was a pleasure to represent the Fairtrade stall again this year"
The day closed with Ms Cliff, Assistant Headteacher, selected the overall winners, she commented that every single participant are "winners"! All students will receive certificates and house points for their participation during their house assemblies. Although it was almost impossible for Ms Cliff to select four winners out of the 25 exhibitions, first joint place was awarded to the South East Asia and Egypt stall; second place went to United Arab Emirates and third place was awarded to Islam/Saudi Arabia. From the three Modern Foreign Language stalls the Urdu/Pakistan stall was awarded first place.
The day was definitely a celebration of 'Being Different Belonging Together'.
Ms S Hussain
International Education Coordinator