Jack Hunt Students do MasterChef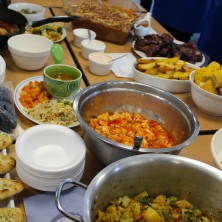 Jack Hunt students test their catering skills by hosting a MasterChef style competition.
Aromatic scents dispersed around Block 3 on Friday 10 January 2020, as 12 of our Year 10 boys busily prepared and served several cultural cuisines.
These students were selected to participate in the first session of Jack Hunt School's third MasterChef competition. The boys were split into three teams and tasked with preparing and presenting several dishes to be judged by our food expert and ex-Curriculum Area Leader of Design & Technology, Mrs S Outar.
The Main Challenge
The day kicked off with a quick reminder of safety procedures in the food rooms, then each team leader, namely, Ms S Hussain (International Education Coordinator and Teacher of Computing and Religion, Philosophy and Ethics), Mrs D Ray (Teacher of Food Technology, Cover Supervisor & ex-chef) and Mr M Nawaz (Deputy CAL of Modern Foreign Languages, Head of Urdu and Community Liaison Officer) respectively, briefed their team and guided them in creating the following dishes: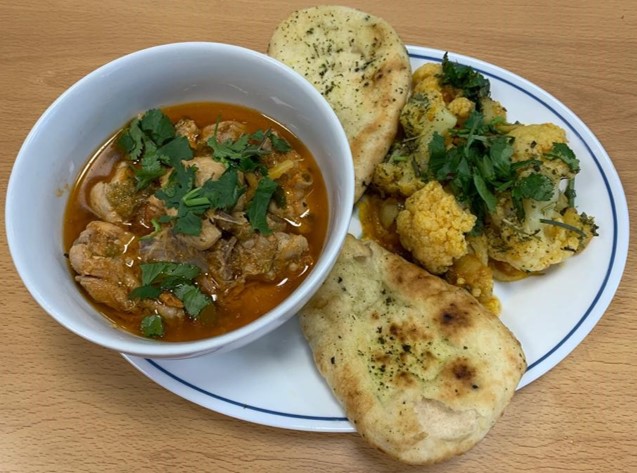 Team 1: led by Ms S Hussain prepared the following Pakistani dishes:
Cauliflower and potato curry
Chicken Karahi
Naan bread
Raita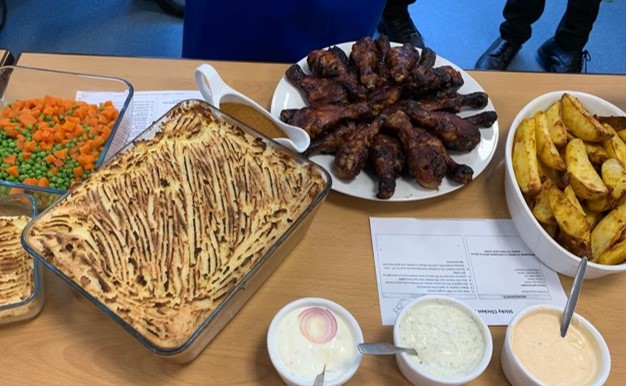 Team 2: led by Mrs D Ray prepared the following British dishes:
Shepherd's pie
Potato wedges
Honey and mustard drumsticks
Corn on the cob
Steamed fresh vegetables
Dips, namely, garlic and mint, Thai curry and onion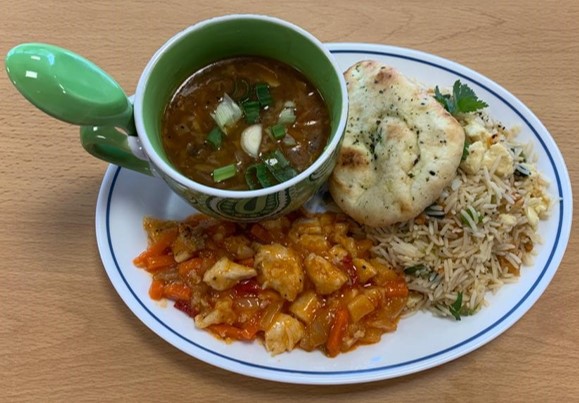 Team 3: led by Mr M Nawaz prepared the following Chinese dishes:
Sweet and sour chicken
Egg fried rice
Sweet and sour soup
The above teams were supported by our Student Internationalism Leaders, Amy-Lee Harris, Bobbin Abraham and Amelia Lane. They were also supported by some of our sixth formers, Khalil Trabelsi (12ESHN), Abadah Khausar (12MBWD) and Raihaan Ahmed(12NDFO). Both of these groups made a great contribution to this event and played an important role in making it the success it was!
The Chickpea Challenge
The boys were paired up to create a dish of their choice using one can of boiled chickpeas, one onion, a few spices and two table spoons of oil in just 20 minutes. We had a range of chickpea dishes presented which were all exceptional achievements and exceeded the set learning outcomes by far.
Again, a difficult decision for Mrs Outar, she commented "all of the presented chickpea dishes are winners, as they are all fabulous, but the one that really stands out is James Mack and Layton Nelson's; it is presented beautifully and tastes spot on!"
Learning Outcomes Achieved:
Cooking healthily
Considering budgeting
Communication skills
Resilience
Perseverance
Computational thinking:

Decomposition - Breaking the complex recipe down into smaller processes
Abstraction - picking out the required information to complete the dish and ignoring irrelevant details
Algorithmic thinking - A logical way of getting from the written and spoken instructions to the completed dish.
After a great deal of struggle Mrs Outar announced the following order of winners for season 1:
Chinese
British
Pakistani
Before the grand feast commenced where students tucked into what they had cooked, Jack Hunt School's Headteacher Ms P Kilbey congratulated the students on working so well in creating some very tricky and delicious dishes. She said "The students involved have not only had a great deal of fun and worked effectively in a team, they have also developed imperative life skills."
Ms S Hussain
International Education Coordinator