Presentation Evening 2019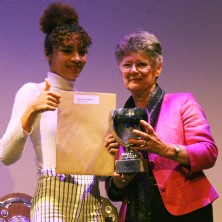 A celebration of Student's success and achievement
Jack Hunt School's annual Presentation Evening was held on Tuesday 17 December. The event was a wonderful evening which saw many students, staff, parents and honoured guests come together to celebrate students' achievements throughout their time at Jack Hunt.
A number of distinguished guests attended including the Mayor Councillor Gul Nawaz; Deputy Mayor Diane Lamb; Geoff Ridgway, our former Chair of Governors for 12 years and his wife June; Penny Walkinshaw, Deputy Lieutenant of Cambridgeshire, former Headteacher Roy Duncan, Governors and former Governors.
The special guest speaker was Linda Melvern, who presented awards and certificates to the GCSE and A-Level students as well as special prizes to those students who were best in their subject. Linda Melvern is a widely published investigative journalist and author. She is an Honorary Professor in the Department of International Politics, University of Wales, Aberystwyth. A consultant to the Military One prosecution team at the International Criminal Tribunal for Rwanda, part of her archive of documents is used to show the planning and progress of the 1994 genocide. Linda Melvern has written six books of non-fiction and is widely published in the British press and academic journals. She is the second vice-President of the International Association of Genocide Scholars. Linda motivated the audience by sharing her experiences and the impact hard work and resilience can have in ensuring success and eventual international recognition.
A number of students received awards, particular recognition to Katie Prange, who won six awards: Roy Duncan Award for best A-Level results, Geography Shield for the student with the highest level in Geography, Religious Education Shield, for the student who has reached the highest level in Religious Education, Sarah-Jane Woolley Shield, for the Student demonstrating an outstanding contribution to the Duke of Edinburgh Award and finally the Chris Hillard Student Leadership shield, for the student who has made the most significant contribution to the leadership of other students. Francine Kelly also walked away with four awards: Roy Duncan Award for best A-Level results, Geography Shield for the student with the highest level in Geography, Economics Award, for the student who achieve the highest level in Economics and finally the Sue Titman Award, a commendation in recognition of the dedication and leadership of the Head Prefect Team 2018/19
The evening came to a close with the Head Boy, Peter Whyman and Head Girl, Alyssa Hammond thanking Linda for her motivational and inspirational story that showed the importance of resilience and tenacity. The musical performances from the Senior Choir, Jazz Band and sneak preview of the school musical 'School of Rock' were of the highest quality and very enjoyable. Thank you to all involved who made the event a great success.