DT Team support NHS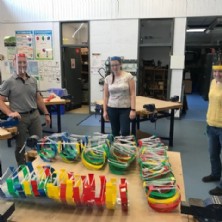 Three members of the Design and Technology team make visors to support the NHS
Through David Turner, School Improvement Associates, we became aware that Birchwood High School in Bishop's Stortford had made visors for the National Health Service. Their Principal, Dr Chris Ingate, sent us the patent and on Friday three members of our Design Technology team came into school.
I thought they were just going to look at the materials we have in stock and get back to me about what was possible. By the end of the day they had made 61 visors and a representative from Peterborough Hospital Procurement Services had collected them by 5.30pm.
This is an absolutely amazing effort from the Design Technology team and especially Adrian Hargreaves, Bec Evans and Mary Loveridge. The Hospital are going to come back to us about whether they need more visors and if so, any amendments we can make to the design.
We are so proud of the team and so immensely grateful to be able to give this support to the amazing staff in the National Health Service. You are our heroes. We are in awe of the work you are doing and the courage you are showing; as a community we wish to thank every single one of you.
Pamela Kilbey
Headteacher, Jack Hunt School