Presentation Evening 2020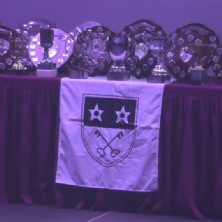 Jack Hunt School's virtual Presentation Evening was held on Tuesday 15 December.
Jack Hunt School's virtual Presentation Evening was held on Tuesday 15 December. Although we were unable to hold our traditional event in school, we pre-recorded the presentation and still celebrated the achievements of our fantastic students.
All distinguished guests, governors, staff, parents and students were invited to attend the virtual event with special guest speaker Sam Ruddock, Paralympic Track Cyclist. Sam had a successful career in Athletics until late 2018. In 2019 he was invited to join the British Cycling Foundation programme and has rocketed through the ranks in para-track cycling and gained a place on 2020 Para-Track Cycling World Championships in Canada. He has since been training for Tokyo Paralympic Games.
A number of students received awards, particular recognition to Peter Whyman who won four awards: Roy Duncan Award for best A Level results, Michael Taylor Award for student who produced the best English essay, History Shield for reaching highest level in History and Sue Titman Award a commendation in recognition of the dedication and leadership of the Head Prefect Team 2019/20. Congratulations also to Sarmed Chaudhry, Sophie Foreman, Richard Kaseta and Farhaan Khan who each won three awards. A superb achievement.
The virtual event came to a close with the Head Boy, Gabriel Balaci and Head Girl, Angela Siby thanking Sam for his motivational and inspirational story that showed the importance of resilience and tenacity. The musical performances from the Virtual Choir, Kira Hughes and Alfie Loxdale were of the highest quality and very enjoyable. Thank you to all involved who made the virtual event a great success.
Below you will find a YouTube link to our Presentation Evening video, alongside an sharepoint link and downloadable option for our Presentation Booklet.