Bebras Computing Challenge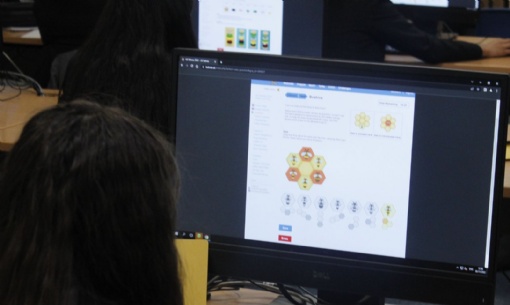 605 JHS students took part in a worldwide computing challenge
The Bebras Computing Challenge introduces computational thinking to students.
Bebras is Lithuanian for beaver. It is a very common animal in Lithuania.
The competition was named by the founders of the International Bebras Challenge after the hard-working, intelligent and lively beavers that are found there.
It is now organised in over 50 countries and designed to get students all over the world excited about computing. The challenge tests logic and computational skills through different types of fun and challenging problems. The questions are in the form of engaging puzzles that start off relatively easy, so every student can have a go and will get something out of the competition. Over 360,000 students took part this year which is an increase of 20% on last year.
We had 605 students take part during the week beginning 7th November.
Congratulations to Dovydas Jakcinskas (Y8) and Hamza Ahmed (Y10) who were awarded Best in School. Distinction and Merit certificates for Intermediate and Senior beavers have been given to the students in their ICT & Computing lessons this week.
Mr Kent Head of ICT & Computing said I just want to say how much the 605 students enjoyed this challenge. We have run the Bebras Computing Challenge for several years now and have students aged 12 to 18 participating during their ICT & Computing lessons, with some of our older students also taking on the challenges. It is really helping to challenge their thinking, and they showed great determination to try and complete each of the 18 tasks! Also, it was fantastic to find that it works on the iPads. Congratulations to all those who achieved a certificate. We have so many fantastic problem solvers.