Exchange Student Excels in England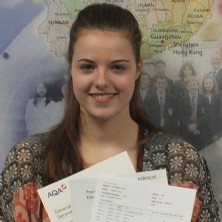 Sarah Prim, joined Jack Hunt Schoool in September 2015 as part of an international student exchange programme. She had heard about it from her friends in Germany who were looking to do the same thing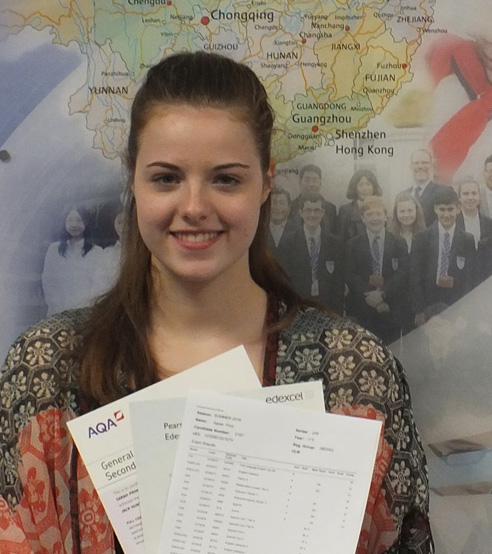 Sarah Prim, joined Jack Hunt Schoool in September 2015 as part of an international student exchange programme. She had heard about it from her friends in Germany who were looking to do the same thing and applied to an agency which specialises in finding a suitable school and host family to match the needs of the student. Sarah said "I saw it as a really important opportunity to improve my English and to learn about a completely different culture and, as I wasn't going to take my end of school exams for another two years, thought it would be a really good thing to do."
She joined other Year 11 students studying for their GCSEs and after only nine months studying here in the UK took eight subjects; this week she collected her results from us. Sarah got fantastic results becoming one of our top achievers, with 1 A* in Maths, 6 As and a B in English Language.
Sarah has now returned to Germany to continue her education and will be taking her final school exams in September 2018 when she will take twelve subjects equivalent to A Levels. The education structure is different in Germany and after junior school students are assessed and, depending on their academic level, follow one of three routes. Sarah was in the top academic level and therefore does not take final school exams until the end of Year 13. However, students have to pass exams each year to go into the next year – if they do not pass then they will resit that year. Sarah has a much longer school day in Germany starting at 8am and on some days not finishing until 5pm however there is more flexibility in her day and they are allowed to study at home when they have free periods.
Sarah said "It was a really good experience, it wasn't what I expected but still very good and it has really helped me to mature, become more independent and improve my English." She went on "It has taught me so much about different people, how to get on with different people and because no-one knew me I could really be myself without any history. It was really cool!"
This is the fifth time Jack Hunt School has been part of this scheme and we have hosted students from Germany, Austria, Switzerland and Australia over the years.
Mrs Keber said "Sarah was a delight to have as part of our school community and we are very proud of her achievement, she has done incredibly well and worked extremely hard."