Just Play!
City bases Vivacity coaches supported by Cross Keys Homes are leading the launch of 'Just Play!' at Ravensthorpe Primary School playing field on Saturday 10 September at 10am.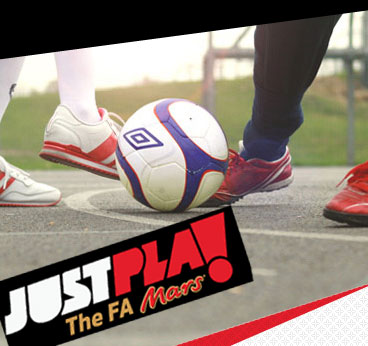 The FA and Mars, The FA's Adult Football Partner, have made it as easy as a 'one-two' to turn up and start playing the football that best suits you; whether it's a good old-fashioned kickabout or the more competitive game, like 5 or 11 a side.
It's a new, fun and informal way to play the game. Just Play! kickabouts are great for when you want to play without committing to a weekly game, a complicated league or fancy team strips. It's all about loose, casual play so any excuses about fitness or levels of experience should be left where they deserve to be; at the bottom of your kit bag.
Don't leave your love of football back in the day. Find yourself a kickabout, book your place, turn up and Just Play!
Check out the Just Play launch film involving Peter Crouch and Theo Walcott by clicking here. Or use the link below to visit the Just Play! website where you will find further details and booking information.
https://justplay.thefa.com
Location: Ravensthorpe Primary School playing field
Dates: From Saturday 10 September 2011 to Saturday 29 October 2011
Start Time: 10.00am
Finish Time: 11.00am
Status: Taking online bookings now or just turn up on the day
Price: £2
Click here to read the Evening Telepgraph news story about Just Play