Young Enterprise Team Geared Up For Success!
A group of Sixth Form students have set up a company called Plato 21 and are running their own business as a part of the Young Enterprise Scheme. Plato 21's aim is to provide a variety of products and services with the target of maximising profit and providing excellent service for their customers. The company has developed an Android Phone App called the "UK Crime Guide" which uses GPS technology to give users up to date information and location of crimes in their area. The App is available online to download on Android Marketplace.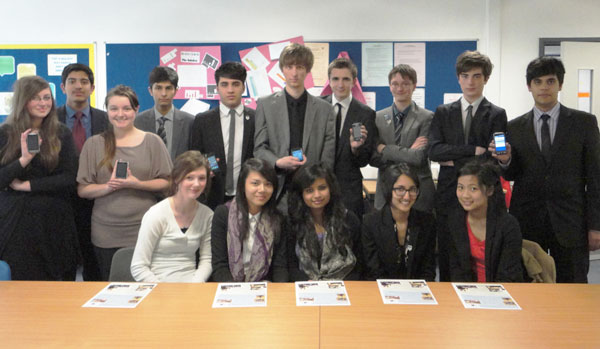 The students are being supported by Nick Stephenson, a Business Adviser from Perkins Engines and recently had a successful trade stand at the Queensgate Shopping Centre, where they competed with businesses from other schools selling personalised T-shirts and other products.
By taking part in the Young Enterprise Scheme students gain practical experience of business and enterprise through setting up and running their own real company. The Scheme is run over one academic year and the key features of the programme are:
In their weekly meeting the students have the support of a volunteer from business.
Students raise share capital to finance the company.
The company designs and makes a product or service to sell to the public.
The programme delivers aspects of work-related learning.
The initiative helps to develop and evidence key skills and enterprise capability.
This programme provides a real experience of business enterprise.
Mr Nooruz Zaman, Curriculum Area Leader for Business and Enterprise, said "The Young Enterprise Company Programme provides students with a tried-and-tested quality enterprise experience that is second to none. The skills that students develop through the programme are directly relevant to the workplace".
Year 12 student, Marco Calitri, Managing Director of Plato 21 said, "I've really enjoyed taking part in the Young Enterprise Scheme. It's been very challenging but rewarding. The team have been great and supported each other really well. I've further developed my leadership skills and have gained hands on experience of running a real business. I thoroughly recommend the Scheme to all next year's prospective Year 12s".