Olympic Achievement
Three Jack Hunt students were extremely fortunate to be part of the London 2012 Olympic Torch Relay. Sumayya Manji (Year 9) applied to carry the torch through Coca-Cola and was selected because of her volunteer work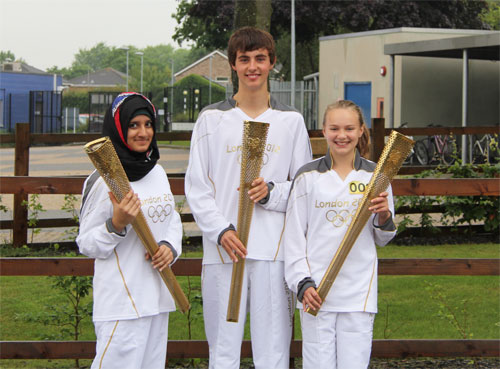 which she has carried out at places such as the mosque youth group.
Edith Prosser (Year 8) was nominated by Jack Hunt School through a London 2012 initiative. As a school we were one of only 212 schools asked to nominate a Year 8 student who was and is making a valuable contribution to the school.
Matthew Newton (Year 11) was nominated by Jack Hunt School because of the fantastic amount of volunteering he does within swimming and rowing.
All are extremely deserving of this opportunity and had a wonderful experience being cheered on by the general public of Peterborough and Spalding. All three students are pictured with their torches.
Well done.