Spanish Exchange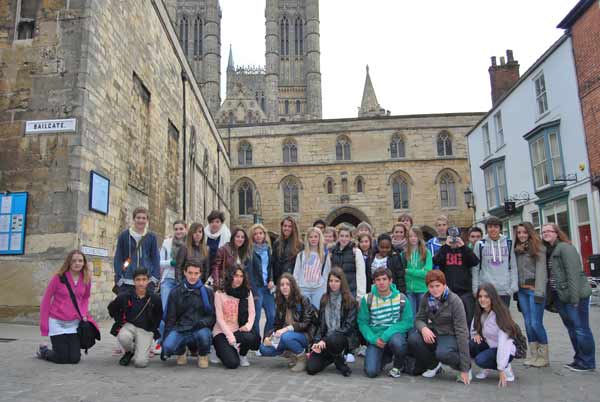 On 9th October we welcomed 28 Spanish students and two of their teachers to Jack Hunt, on the first leg of our 2012-2013 Spanish exchange trip. The return visit will be in early March, when a group of our Y8s, Y9s and Y10s will travel to Palencia, in northern Spain. The Spanish school is the IES Jorge Manrique, similar to JHS in size, but a much older school in the centre of the town of Palencia.
Our Spanish visitors greatly enjoyed their visit, and we would like to thank all the host parents for their kindness and generosity towards our guests – not least when they had to turn out at midnight to see them onto the coach back to Stansted!
The Spanish students came into a number of lessons, and enthusiastically joined in with Spanish classes, and their teachers also helped out in one of our GCSE classes. During their stay they visited Lincoln and Planet Ice – both joint trips with their JHS exchange partners – and on Saturday they went to Cambridge. JHS students were impressed by the Spanish students' grasp of English (they start learning very early and study English intensively in Spain) and were encouraged to build on their own skills so they can communicate more freely with their exchange partners. The Spanish students had other impressive accomplishments: one of the girls turned out to be a national champion in judo, and a future Olympic hopeful.
We are all looking forward to the return visit, and hope that the exchange will become a regular feature on the JHS calendar. Before too long we will be planning the 2013-2014 trip, and hope that we will have a lot of applicants. So if you are studying Spanish, or hope to be doing so next year, watch out for news of the next visit to Palencia.