Peterborough Gang Show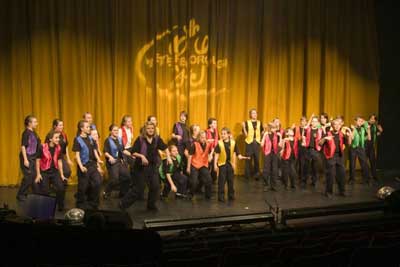 Somewhere in the world a Scout "Gang Show" is being produced every day of the year. Since the first "Gang" took a bow in 1932, this unique entertainment has throughout the world raised more than five million pounds for the Movement. Peterborough Gang Show is a Variety Show performed by local Scouts aged 8 to 60 from across Peterborough and has played regularly in local venues since 1937.
This year is their 65th Show and Jack Hunt School are proud to sponsor the event which involves hundreds of volunteers and children, some of which are our own students and staff. These kinds of activities inspire our children to learn skills outside of the classroom whilst reinforcing our ethos of being part of the community.
Headteacher of Jack Hunt School, Mrs Pamela Kilbey said "Jack Hunt School, as one of the main sponsors, has been pleased to support the Peterborough Gang Show through the use of the school for most of their rehearsals. We look forward very much to seeing the outcome of all their hard work."
This year's variety performance will take place at the Key Theatre week commencing 5th November and will include items such as Wild West, Movies, Joseph and Saturday Night Fever.
Tickets can be booked via the Key Theatre on 01733 207239 or via their website