Jack Hunt ECO Reps Win Again!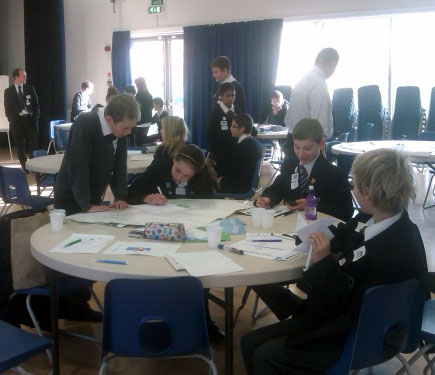 As part of Peterborough's Power Down Fortnight this November, students from across the city gathered at Ken Stimpson Community School to compete in the Power Down Business Challenge. The Dragon's Den style task was simple yet demanding: to invent, design and promote a product for Peterborough that would reduce carbon emissions and create a greener city.
Our young eco-entrepreneurs got straight to work on their design for the portable wind turbine. An ingenious device that could be attached to your bike handles, a baby's pushchair or even the roof of a car. The movement of the vehicle would charge a battery no matter the weather; wind not necessary. This could then be used to charge a mobile phone, MP3 player or hand held games console; ideal if you're away from a mains power supply.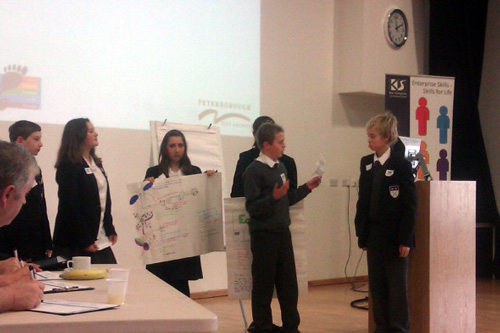 However, it wasn't just the design that impressed the formidable judges, who ranged from regional business managers to the head of the Peterborough Environment City Trust. It was also the fantastic presentation that the Jack Hunt students gave that made them stand out from the crowd. They performed a dramatic scene showing how the "Easy Energy" wind turbine could be a vital product for any Peterborough resident.
Alice Taylor, Seb Roberts, Jamie Scholes, Eleanor Mitchell, Josh Cassidy and Sarah Abs were each awarded a £10 Queensgate voucher and a certificate as joint winners with the Ken Stimpson team beating students from King's School and Nene Park Academy.
Well Done Eco Reps!
Mrs Pantling
Sustainable Schools Coordinator