Deputy Head Boy Selected for National Steering Group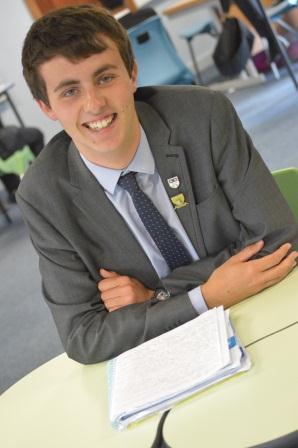 Matt Newton a Year 13 student who is Deputy Head boy, has been selected to be part of the Young Ambassador Steering Group for the coming academic year.
The Young Ambassador programme was launched in 2006 as a response to London being awarded the Olympic and Paralympic Games and Lord Coe's Singapore promise, 'to inspire a generation'. One of the founding principles of the programme is that it should be 'for young people, by young people' and Matt will be one of 16 young Ambassadors selected from across the UK.
Overall Matt will help lead in three key roles nationally;
- To increase participation in PE and school sport
- Be a role model and ambassador for PE and school sport
- Promote the positive personal values sport can develop
The steering group will meet three to four times a year, and will also utilise their skills in a number of other ways such as delivering speeches at national conferences and meeting members of parliament. The first meeting has already taken place with great success, afterwards Matt said 'When I was advised I had been picked to become an ambassador I was really pleased and grateful for the help from Jack Hunt School, especially the PE staff for their help and support with my application'. 'The first meeting went really well and I'm excited about the opportunities this appointment will bring'
'This is a fantastic achievement for Matt', says Mr Game, Assistant Headteacher at Jack Hunt School 'He has always been a dedicated leader developing his skills in school through our sports leader pathway and in the local community where he does a tremendous amount of volunteering. Being selected for the Young Ambassador Steering Group is great reward for this effort. We wish him all the success possible on this exciting journey.'