Bonita Norris Inspires Students at Annual Sports Awards

Annual Sports Awards Evening Success for Jack Hunt School
The annual Sports Awards Evening, which is now in it's 5th year, was held on Thursday 14th November. This year it was bigger and better than ever with over 120 students, staff and parents in attendance. They were treated to outstanding performances from the Year 12 dance students, a range of sporting awards and interview with 3 time award winner and past student Melissa Galer.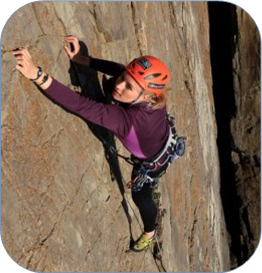 They were also audience to an inspirational guest appearance from Mountaineer Bonita Norris. Bonita, originally a Disability Assistant from Berkshire, became the youngest woman to climb Everest in May 2010, after just 18 months of training. In addition, she was the first British woman ever to climb Mount Lhotse, the world's fourth highest mountain, in 2012. Since then, Bonita has presented the Red Bull Cliff Diving World Series on Dave and is now preparing for an expedition to the South Pole. Bonita is an Ambassador for the Global Angels Foundation and makes it her mission to persuade young people that every goal is worth striving for!
'This has been a dream for a long time but I kept dismissing it, then one morning in 2008 I woke up determined to do it. My idea was to climb Everest in its spring season of 2010, and raise a shed load of cash for charity along the way.
'Despite many people telling me that I couldn't do it, and some insisting I would die trying, I knew I could prove them wrong.'
Speaking after reaching Everest's 5,200m base camp, she said: 'I was 17 when I first told my stepdad I was going to climb Everest one day and he said "Don't be stupid".
The evening was finished with a truly amazing singing and piano performance from Lizzy Parker.
Students were recognised for their outstanding contribution to both school sport and celebrated their achievements for their level of competition outside of school. Notable achievements saw Lewis Tuck pick up the award for Best GCSE PE Student, Amar Zamir scooped the Best A level Student. While our 2 most prestigious awards The Linda Dingle, Best Higher Sports Leader went to Joel Phillip and our Outstanding Student (Junior Athlete Education) went to Ben Knighton.
Special thanks should go to: Mukosa Tengenesha, Rukhsar Khalid, Shannon O'Connor, Farrah Afzal, Rebecca Darling, Tia Molloy, Jess Deakin and Elizabeth Parker.
A full list of all award winners are below;
Best Sports Person in GCSE PE

Lewis Tuck

Best Sports Person in BTEC Sport

Sohail Hussain

Best Sport Person in A Level PE

Amar Zamir

Best Performance in GCSE Dance

Jess Deakin

Most improved Sports Person in KS3

Stephen Wormald

Most Improved Sports Person in KS4

Oliwia Ambicka

Best Junior Leader

Zibeb Azoui

Best Junior Leader

Georgie Elsom

Best Junior Leader

Priyal Taliti

Best Community Leader (Linda Dingle Award)

Joel Phillip

Highest Attendance at extra-curricular activities KS3

Azizulah Sharifi

Highest Attendance at extra-curricular activities KS4

Maidi Askari

Best JAE Student

Ben Knighton

Best Boys Team U16 Basketball

Greg Thornton

Andrew Henry

Maidi Askari

Khodadad Painda

Azizulah Sharifi

Haydn Tankard

Callum Lyttle

Adam Clarke

Jurgis Vaivods

Liam Mills

Best Girls Team Year 10 Rounders

Elisha Reid

Tia Anglin-Vacca

Priyal Taliti

Georgina Windsor

Natasha Anderson

Georgie Elsom

Bethany Jones

Natasha Thompson

Zineb Azoui

Shateel Sajan

A Level PE Special Commendation

Raqib Rasib

Helping out in Dance Special Commendation

Megan Wiles

Young Ambassador Special Commendation

Sumayya Maji

Young Ambassador Special Commendation

Lewis Tuck

Young Ambassador Special Commendation

Matt Newton

Young Ambassador Special Commendation

Georgia Swain

Young Ambassador Special Commendation

Edith Prosser

Helping in PE Special Commendation

Asnan Waheed

Swimming Special Commendation

Katie Brown

Swimming Special Commendation

Daniel Brown

Hockey Special Commendation

Oscar Sadikot

Martial Arts Special Commendation

Bethany Jones

Martial Arts Special Commendation

Lianne Jones

Basketball Special Commendation

Azizulah Sharifi

Running Special Commendation

Elisha Reid

Tennis and Golf Special Commendation

Thalia Martin

Primary Award

Aleesha Ali – West Town Primary

Primary Award

Sam Higgins – Thorpe Primary