Deaf Student Wins Signature's Young Learner of the Year
Student wins Signature National Young Learner of the Year 2013

When guests entered the Bloomsbury Ballroom for the 2013 Signature Annual Awards it was like going back in time to a bygone era of glamour and sophistication.
There was an air of excitement, everyone looked their best and the photographer busily captured the atmosphere of the evening. Guests were greeted with a drinks reception followed by dinner in the grand art deco style ballroom, which was decorated in a theme of black and gold.
Nick Lewis, Signature Chair, welcomed nominees and their friends and families to the ballroom. After dinner, Jim Edwards Signature Chief Executive, congratulated all of the shortlists. He spoke about the work we are all doing in our different ways to improve access, communication and language support for deaf people.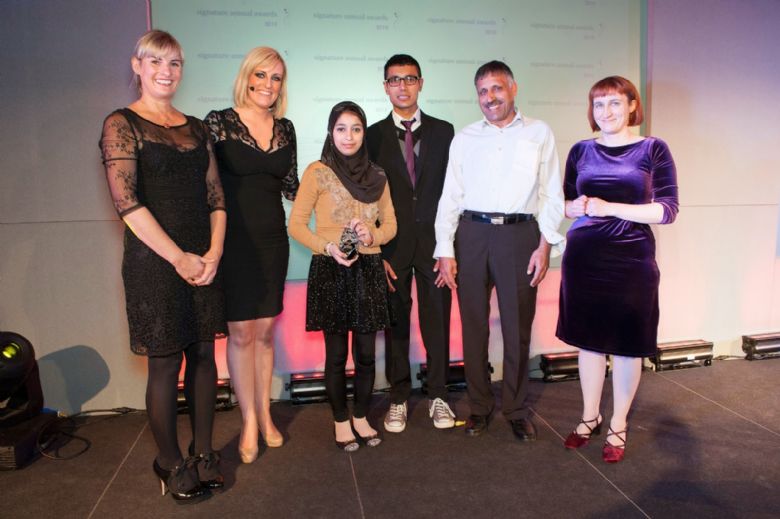 The Signature Annual Awards provide recognition by acknowledging those whose contribution moves us all further toward achieving a society in which deaf and deafblind people have full access.
We are so proud that our own student Golofrnira Zadran won Signature's second ever Young Learner of the Year.
The nominator application explained 'Golofnira is 13 years old and came to Jack Hunt School in 2012. She arrived from Germany with excellent German Sign Language (GSL) skills but no knowledge of English or British Sign Language (BSL). She was plunged into a frightening world where she had no understanding of the methods of communication that were being used around her.
At home, Golofnira has a mixture of Deaf and hearing siblings, BSL and English are not used there. The teaching assistants at the school therefore purchased some books on GSL and together they were able to learn more than 1,000 words in order to communicate with her. This improved her situation but she was still under a lot of pressure living in a world with very little communication. When Golofnira joined the school, 16 other deaf students arrived at the same time, so she quickly set about learning BSL. This was no easy task because GSL is very different to BSL.
The school had to adopt a new style of teaching for Golofnira and she immersed herself in the course and worked extremely hard to learn BSL. Her teacher was in awe of how she managed to cope with no common language to fall back on. She passed the Signature Level 1 Award in British Sign Language in just two months, something that it takes most adults who have a good command of English twelve months to achieve. She has impressed not only her teachers but her peers too and she has made many new friends.
Golofnira has assisted in deaf awareness classes for trainee teachers, passing on her experiences, teaching basic signs and fingerspelling and explaining some of the technology she has used to help her. She was part of a group who visited Cambridge University to deliver deaf awareness training to trainee teachers there.
In her every day life Golofnira actively encourages as many people as she can to become more deaf aware and to learn BSL. She has taken part in Sign to Sing and several deaf sporting events. She is looking forward to continuing with her studies from September.'
Pamela Kilbey Headteacher at Jack Hunt School said' We are extremely proud of Golofnira who has worked very hard to get where she is today, and thanks the team here at school who have worked with Golofnira to help her achieve her goals'.
Teresa Quail, Lead Teacher of the Deaf (Peterborough Sensory Support Services based at Jack Hunt School) said "Golofnira quickly had to embraced a new unknown world of British culture, BSL Deaf culture and secondary school education when she first arrived in the UK. She has worked extremely hard to gain a strong understanding of BSL in just two months, something which takes most adults who have a good command of English 12 months to achieve. Golofnira has made amazing progress and should be very proud of her achievements."