Jack Hunt Jackals Retain Basketball Title
The Jack Hunt Jackals have once again retained the City / Divisional title in their hardest fought campaign yet. The team started the season with a solid defeat over Kings who have been our toughest competitors over recent years. This was a great way to build confidence, especially for the Year 7 Connor Lytle and Josh Clarke in their playing debuts. More success followed and the team (minus an injured Callum Lytle) travelled to Bushfield to compete against the top three teams. The first game was a comfortable win against the hosts, holding onto the lead despite a late comeback from the OBA team. On the opposite court, Ken Stimpson took their game by a point and we prepared for the final match-up.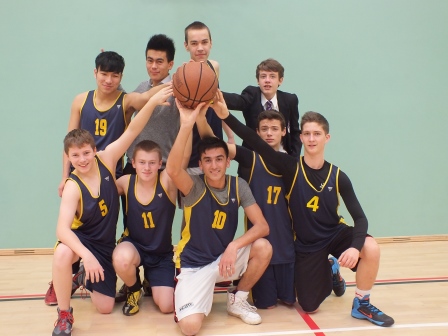 To describe the game as close would be the biggest understatement of the year with each team scrambling for every point. With seven seconds to go the scores were tied. With five seconds to go we had a 2 point advantage and Ken Stimpson went to the line for penalty shots. They missed the pair and within a second Jack Hunt were on the line at the opposite end. A scramble followed by ten players diving for the ball. It flew into the air as the final whistle blew and the students left the court victorious – carrying Adam Clarke who had gone down hard in that last melee.
This has been the hardest city competition in recent years and is testament to the way that the standard of play is improving rapidly across the city. 'We're all looking forward to the next stages of competition, especially Maidi Askari who has assisted in the team coaching this year. I think that after the last game he now understands why I'm starting to go grey! Well done boys. The Jack Hunt basketball continues to achieve and to inspire!' said Mr Brown Coach