Falklands Veteran and Charity Campaigner Simon Weston OBE Awards Students at Presentation Evening 2013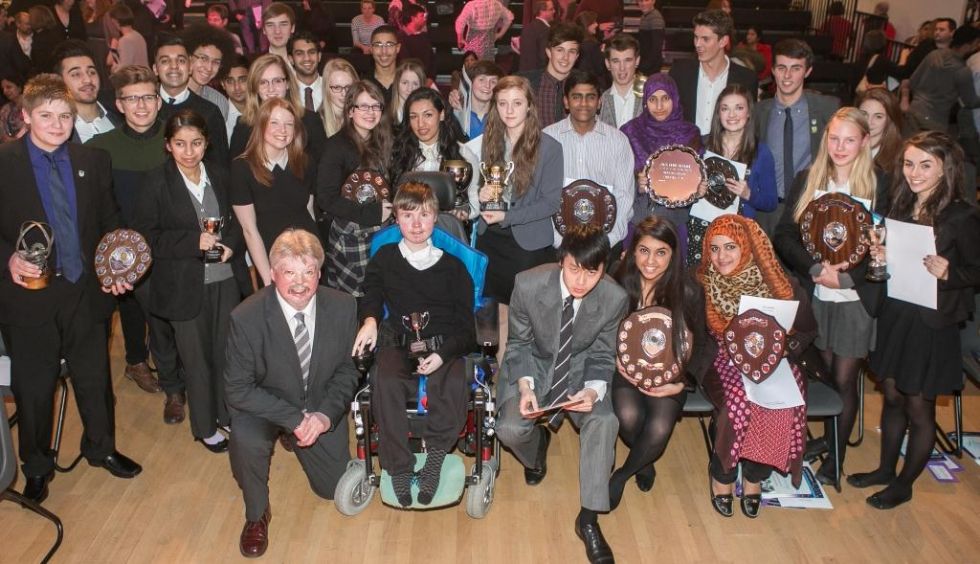 On Thursday 19 December, Jack Hunt School were delighted to welcome inspirational speaker and author, Simon Weston OBE, to present awards and certificates at the annual Presentation Evening celebrating student successes and achievements in the 2012-13 school year.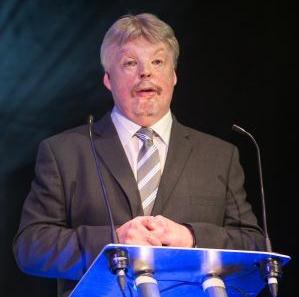 Twenty three years ago Simon Weston, a Welsh Guardsman suffered serious burn injuries (46%) when the Sir Galahad was destroyed in Bluff Cove during the Falklands War. His story is one of achievement, of triumph over adversity, of seizing the moment and succeeding as he redefined his role in life. Simon's road to physical, spiritual and mental recovery saw him involved in highly successful charity ventures including 'The Weston Spirit', a Liverpool based young people's charity, he is a tireless worker for the Royal British Legion and the Royal Star and Garter Home earning him an OBE in 1992 and listed as one of the top 100 Welsh Heroes in 2004.
His story has been well publicised in a series of five major BBC Television documentaries and his best-selling autobiographies Walking Tall and Going Back.
Simon's message is one of single-minded determination, to not only accept what is, but to turn that to your advantage with his own career clearly demonstrating how a positive mental attitude can achieve great goals. He is an excellent example of this having been told at twenty two that he was unemployable because of his injuries, Simon has since gone on to establish charities, and run a number of businesses.
The evening celebrates and showcases the amazing achievements and talents of students both academically and vocationally, with awards and trophies being presented by Simon Weston to students past and present. As well as musical performances from the school choir and other students, certificates for GCE A Levels, GCSEs and Vocational Qualifications were also presented during the evening.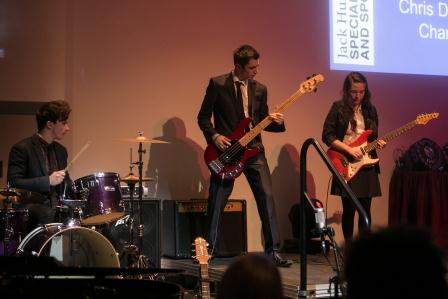 The presentations were interspersed with amazing musical performances from Jack Hunt students including the Senior Choir and Katy Moore with Elizabeth Parker. One of the highlights of the evening was the outstanding performance of Voodoo Child by drummer Chris De Freitas and guitarists Dominic Bowyer and particularly Charlotte Scott who has worked very hard at her guitar skills. Simon Weston commented "that Jimi Hendrix would have been very proud of their rendition." There was also a superb Les Miserables flash mob performance from cast members.
Pamela Kilbey, Headteacher said "We are very proud of the amazing achievements and talents of our students. Academically we are delighted with our examination results in 2013, in both attainment and progress measures and across GCSEs, AS and A2. We had the best performances the school has ever seen with results which were significantly above the national average. This reflects the dedication of staff, support of parents and hard work of our students for which I am very grateful. We were delighted to welcome Simon Weston OBE to the school. His speech was motivational and inspired our students to believe in themselves."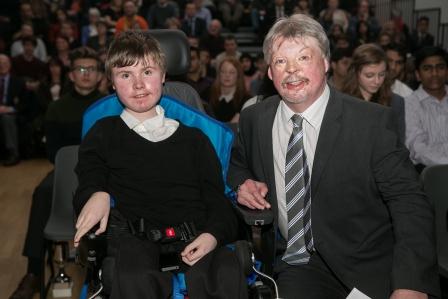 Major award winners included Alexander King who received the Roy Duncan Award for the best A Level results with six A levels, an A*grade, three A grades and two B grades; Priti Pankhania winning the Barsby Trophy for the best GCSE results and Yumna Mohamed Aly who received the Ridgway Trophy for making the most progress. Special Awards were also given to Matthew Newton (double award winner with most significant contribution to leadership of other students and outstanding contribution to school sport); Kimberley Gould (for doing the most for the school community); Darren Anker (highest achievement in technology and highest level in Information Communication Technology); Sajjad Jaffer and Aisha Saddiqa (most dedicated vocational students); Elizabeth Parker (for her considerable contribution to Music) and Rachel Jeffries-Harris (student who has excelled in scientific investigation for further research in Physics).
The Barker Trophy for students who have shown outstanding personal achievement was awarded to two of Jack Hunt's most inspirational students Matthew Purdy and Golofnira Zadran who have overcome either challenging medical or language issues to succeed.
To see more photographs of the award winners, presentations and performances, check out the Presentation Evening Gallery.