'Communication Leaders' Impress at SSAT Conference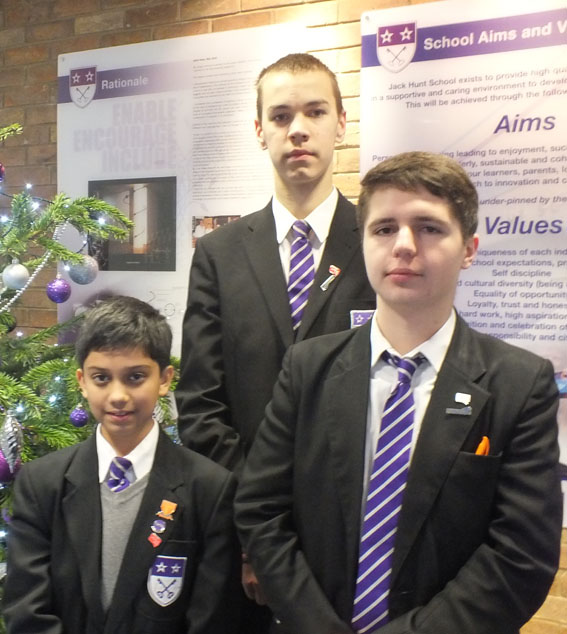 Here at Jack Hunt School we have a diverse intake of students from many ethnic backgrounds, speaking 66 different languages now spoken in school. Amongst these students are those who are Advanced Bilingual Learners who speak a number of different languages well.
To help us understand the needs of such a wide cross-section of pupils, we have created a team of student Communication Leaders to ensure that we listen to our bilingual and multilingual learners and place them at the centre of training and development. These students work closely with staff providing them with support and feedback and this has proved to be extremely successful. They have also undertaken research projects, gathering information through questionnaires, interviews, lesson studies and learning walks. All of this research has been used to help staff adopt different strategies with specific groups of learners
A number of our Communication Leaders recently took their message further, preparing and delivering a workshop at the Specialist Schools and Academies Trust's (SSAT) National Conference in Manchester. The workshop entitled 'Working with Bilingual Learners to raise literacy levels for Everyone' was designed to show Senior Leaders from Schools and Academies across the country what it is like to be a bilingual student at Jack Hunt and the challenges it offers. The students Jurgis Vaivodis (Yr 11), Oldrich Capek (Yr 11), Mukosa Tengenesha (Yr 12) and Safwan Rija (Yr 8) also shared some of their experiences and spoke about how they support staff to improve their communication with multilingual students.
The session ended to rapturous applause and the number of delegates who stayed behind to chat to both students and staff was indicative of how well the session was received. Chris Smith, Student Impact Co-ordinator at SSAT said "The students were quite simply outstanding, they did Jack Hunt School proud."
SSAT's statement to the press said, "The students were absolutely fantastic and a credit to themselves and their school. Their impressive efforts highlighted to all the benefit of the activities they have done in the classroom. Many of the delegates commented that this was one of the most thought-provoking and interesting sessions they had seen."
In the coming months, the group will be collecting and analysing further data and have decided to focus on students that have been in England for 3 years or more with a focus on the spaces literacy inhabits, both at home and in school, hoping to push the boundaries of what literacy means and what it is used for.