An Invitation to Parents - Safer Internet Drop-in Event 26th February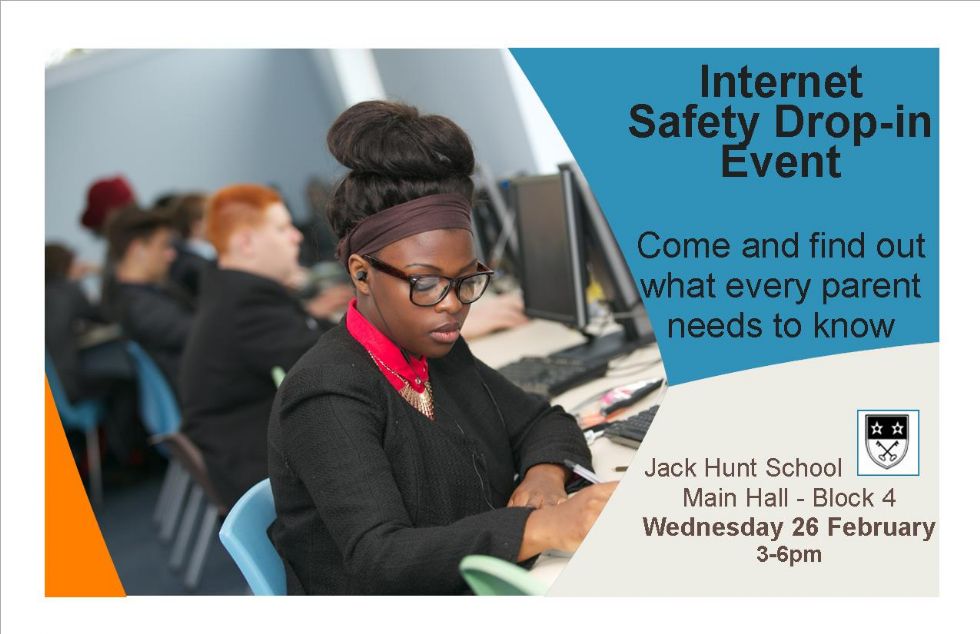 Following on from the work we did with students on Safer Internet Day, parents are invited to join us for an Internet Safety Drop-In Event on Wednesday 26 February, from 3-6pm.
Have you ever worried about how to cope with your child and how they are using the Internet or their Smartphone? Do you want to learn how to protect your family properly when they use technology?
Join us for our first ever Internet Safety Drop-in Event on Wednesday 26 February. The event will run in the Main Hall, Block 4 between 3 and 6pm. The event is open to Jack Hunt parents and parents of children at Jack Hunt Cluster Primary Schools.

You are welcome to come along and listen to the expert talks running throughout the evening:
4pm Using technology safely at home - Andy Duffy, E-Safety Co-ordinator, JHS
4.30pm The Dangers of the Internet - Cambridgeshire Police Representative
5.00pm Top Tips for Talking to Teens - Philippa Cherry, Strengthening Families
5.30pm JHS Tips for e-safety - Andy Duffy & Kate Simpson-Holley
There will also be a range of information stands for you to access with experts to talk to. This will include:
Strengthening Families
Cambridgeshire Police
Student Cyber Mentors
Jack Hunt School
Kite Learning Platform
Drop in, collect some information and listen or talk to the experts.
There's also lots more information for parents on the Kite learning platform
Please complete the form below to let us know if you intend joining us: