Jack Hunt Achieves Gold Award from Investors in People

Jack Hunt School is delighted to have achieved the highly prestigious Investors in People (IIP) – Gold Award. In achieving this we now join the top 2% of organisations across the UK who have achieved the Gold Standard.
The Gold Award is only given to organisations who demonstrate excellence in developing and supporting their staff, meeting or exceeding 165 IIP evidence requirements. These standards include looking at how as an employer, Jack Hunt school supports staff personal development, our corporate and social responsibility and leadership strengths across the school from the headteacher to student leadership. Corporate and social responsibility looks at how as a school we work with other organisations and the wider community such as our Community Learning and Cluster activities.
The assessment took place at the end of half term and involved a rigorous 3-days of lengthy interviews with a large number of staff from across the school, administration and support staff, teachers and the senior leadership team.
The feedback from the IIP Assessors highlighted a number of quotes from the staff interviews they had carried out, these included: 'It is a privilege to be part of children's lives.' 'I love Jack Hunt School' and 'The school does a lot for the community, we have the extended cluster and a lot of above and beyond pastoral support including evening and weekend activities.'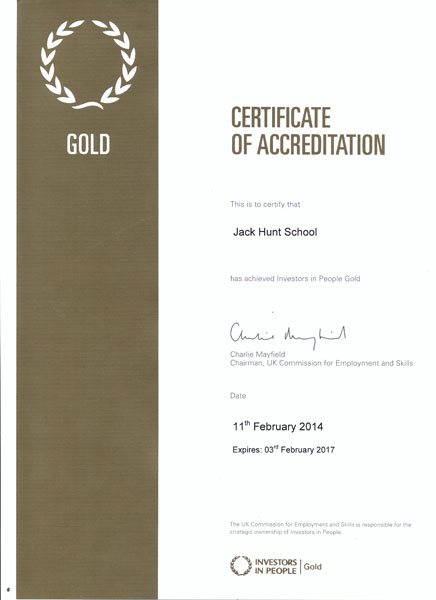 The Assessor's report findings noted that "continuous learning is at the heart of the culture of the school". They also reported that "innovation and continuous improvement is an embedded element of school culture. The report notes that "all the staff interviewed believe their career prospects have improved as a result of professional development they have received at Jack Hunt."
Pamela Kilbey, Headteacher said "We are very proud to have achieved this prestigious award. The Award recognises how, at Jack Hunt, we support and value our staff, helping them to achieve their best which in turn reflects how staff work with students to achieve their best and reach their potential. All our staff work very hard to continually develop their skills and techniques and are very committed to continuous improvement."
Sean Read, Managing Director, Investors in People Central England stated "The Gold Award is a significant achievement and is increasingly seen as a measure of a quality employer. Your success not only reflects your own commitment, but is also an acknowledgement of the effort of everyone who works for the organisation."
Investors in People has grown to be the UK's leading people management business improvement standard. First developed in 1991, IIP is working with over 20,000 businesses in the UK , helping them to achieve accreditation with the improved Bronze, Silver and Gold awards.