Language and Culture Day is a Great Success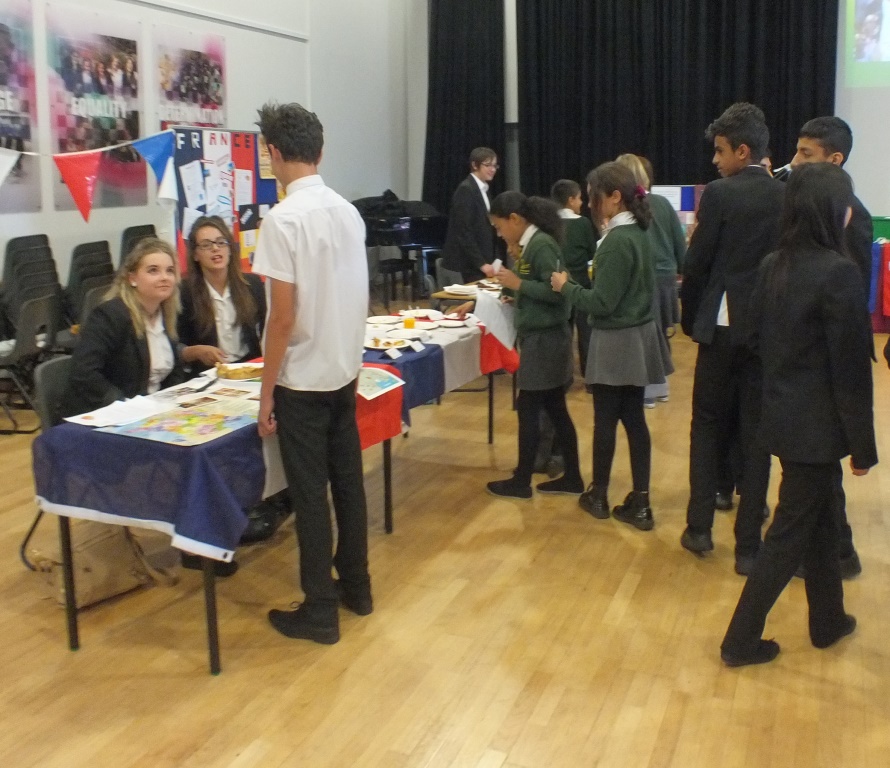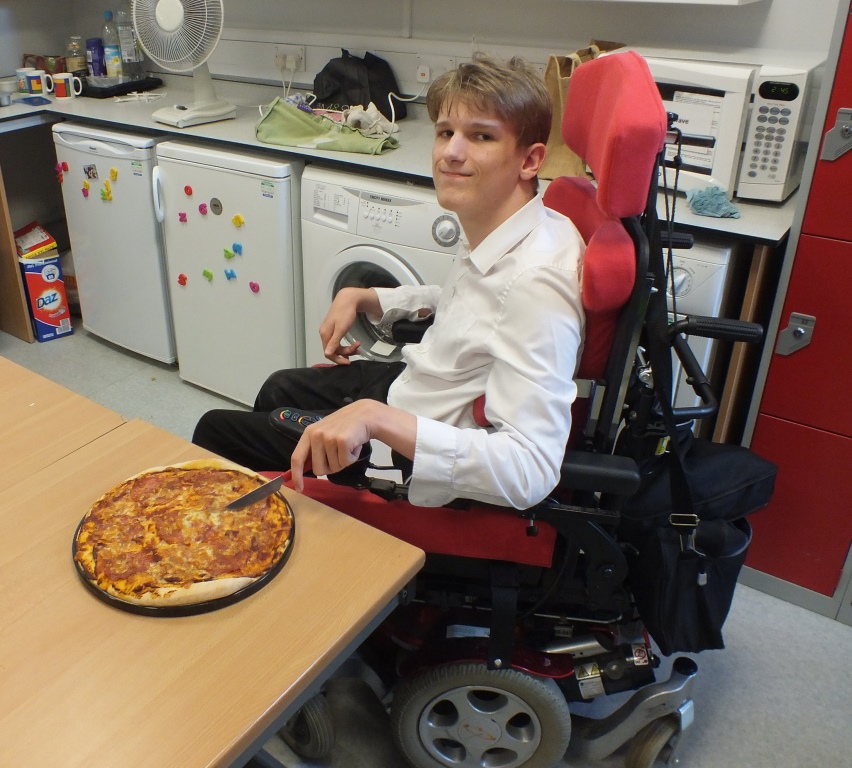 Students and staff were joined by pupils from local primary schools and members of the local community to celebrate cultural diversity both in the school and community at our annual Language and Culture Day. Students put together displays sharing their knowledge about countries and cultures around the world, many of which they or their families came from. Other students selected countries for which they were learning the language. There was also a British Sign Language stand explaining British Sign language which was manned by Hearing Support students and staff and a Fairtrade stall displaying information about Fairtrade around the world.
The event, organised by Mrs Hayat and Mr Nawaz, took place in the Main Hall and students had put together displays showing information about the country as well as having samples of native clothing, food and crafts. Visitors to the stand were able to sample different dishes including Pakistani Biryani, Bean cake, doughnuts and fried plantain from Africa and cakes, cheeses, meats and tortilla from Europe. Students were also on hand to paint Henna designs on visitors' hands whether it was intricate flowers and trelliswork or simply the students name. The visiting students / pupils were invited to complete the 19-question quiz which encouraged them to ask questions and find out more from each of the displays.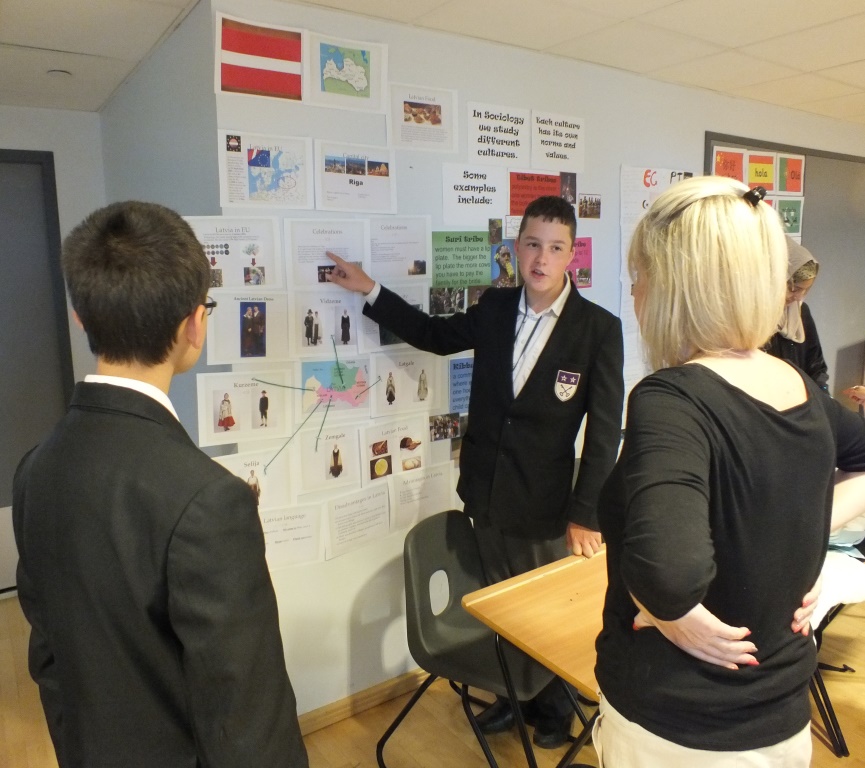 Tony Morgan, Director and Sarah Schechter from sponsors, Routes into Languages East from Anglia Ruskin University said, "What a wonderful day with such a great atmosphere! We were so impressed by the students, they were so engaged and their knowledge of languages and culture and the opportunities they offer"
Arturs Gubaiko from Year 8, who had put together a presentation on Latvia where he was born to Russian parents, only came to the UK two years ago. He speaks Russian at home so has had to learn and speak English in school, he said "It was always my dream to live in England and I love living here, everyone is always helping me with my English. It is really good to tell people about the country where I was born."
Other students who were representing the countries where they were born included Eugine Magungamire, Year 12 (who has only been in the UK six years) who came from Zimbabwe who said "I really love the Language and Culture Day – it's not just about sharing our culture with others but about learning about other people's cultures. It is always very interesting especially sharing real life experiences of living in those countries." Ibitomilayo Komolafe also Year 12 who moved here from Nigeria only three years ago said "Today has been a wonderful day as I have learnt about different countries." The girls had brought in some delicious home cooked traditional food including fried plantain, bean cakes (often eaten for breakfast) and doughnuts as well as examples of the spices grown and used in their native countries. They also joined forces with other students to perform some traditionally African dancing.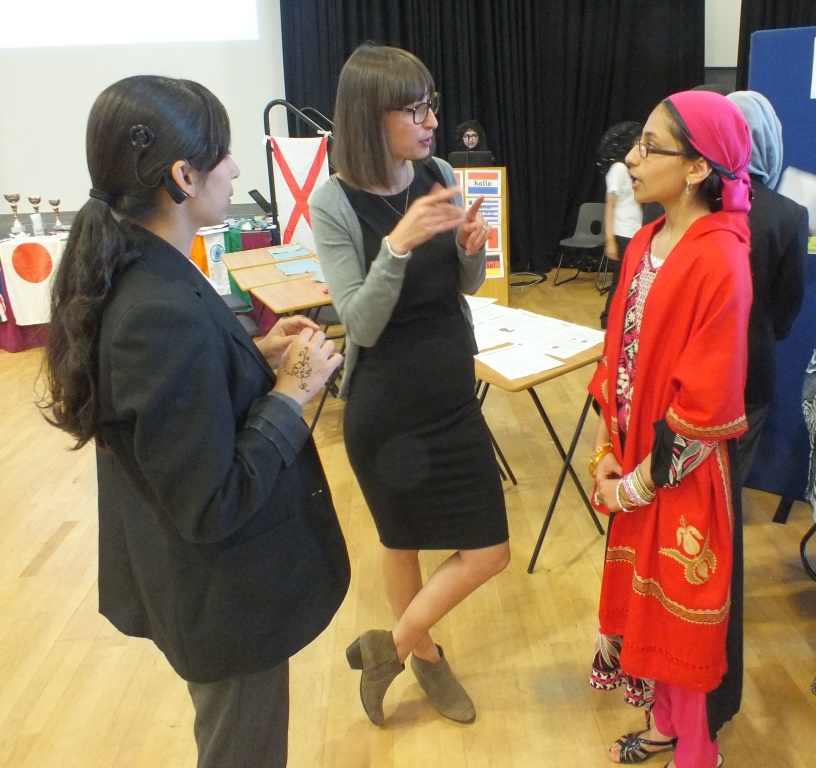 The students that had put together displays for Spain, France and Germany had selected the countries because they were learning those languages as part of their curriculum. Each stand had information about the country as well as samples of local products including cheeses, cakes and traditional recipes such as tortillas. Ana Costa, Year 9 who was representing Portugal, where she moved from aged two said "It has been a really good day with loads of displays, different foods to try and we are able to learn about different cultures."
Deputy Headteacher, Mr Gilligan, who was asked to judge the displays said "I was very impressed with the standard of displays, the students had worked very hard and were very enthusiastic about sharing their knowledge about the countries."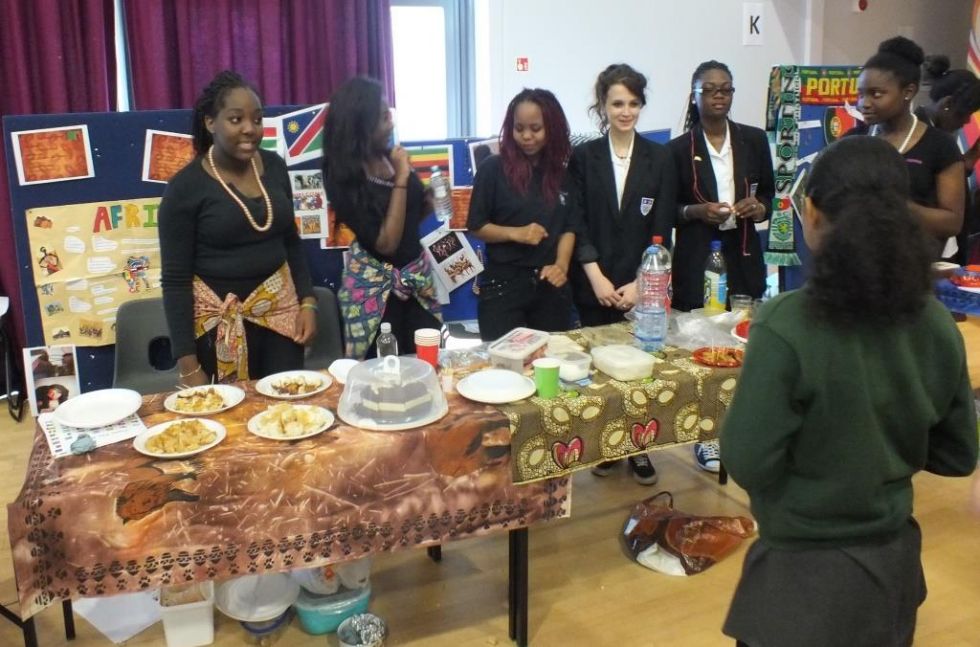 Congratulations to Eugine and Ibitomilayo and their team for their winning display on Africa. There were joint second places to Azad Kashmir and Afghanistan and third went to the German and French language stands.
Alongside the main event, students in Learning Support Matt Purdey and Jack Humphries were cooking homemade pizzas alongside Mr Hammad and Mrs Hansraj cooking indian dishes which were sold to staff and students, raising almost £200 for Save the Children. Local Indian restaurant, were invited to take part selling portions of indian food including biryani, pakora's and samosas.
Mr Nawaz, Urdu teacher and Pakistani Community Liaison Officer)said "Once again the Language and Culture day was a great success and credit goes to all our teachers, management and particularly to our students who not only worked very hard but also displayed their culture, food and geography on the day. Multi culture food was everywhere in the school and majority of the teachers and students enjoyed sampling the delicious dishes."