'Big Finish' Charity Day Raises a Staggering £2,372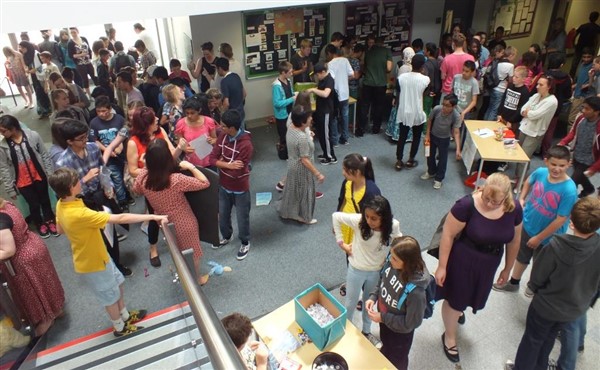 Jack Hunt's annual 'Big Finish' gives students an opportunity to enjoy the last day of the summer term whilst encouraging them to raise money for local charities. This year we will be donating the proceeds to Sue Ryder (Thorpe Hall) Hospice and Hearing Dogs for the Deaf.
The event brings out the entrepreneurial spirit in the students, as all 84 tutor groups are given the challenge of raising money by organising activities, competitions or items to sell at the huge Annual Fete for all students and staff which runs for an hour and half during the morning. There was a loan of £5 available to the tutor groups for funding their activities, which many have not required this year, to get them started which would be deducted from their final total.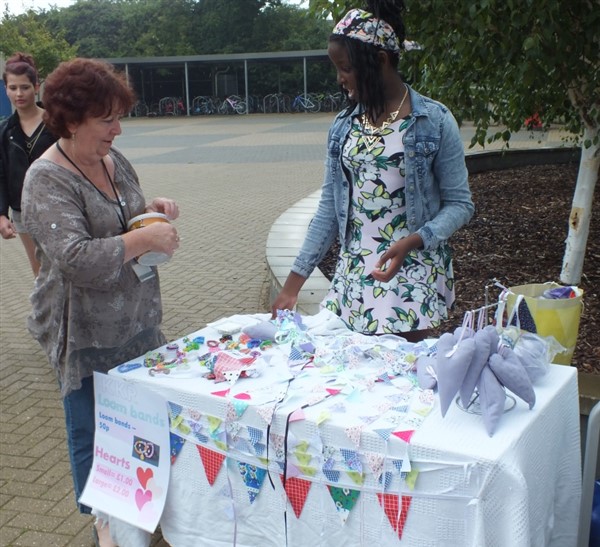 In fact, many enterprising students wrote to local suppliers who donated prizes for the tombola and raffles they were running, as well as donating sweets and baking cakes themselves. Students also used their creative skills making bunting, heart lavender bags, loom bracelets as well cakes.
Activities included selling sweets, cakes and drinks, guessing number of sweets in jar, lollystick games, golf putting, treasure hunts and selling craft products such as bracelets and headbands. Some of the most popular activities included throwing custard pies or wet sponges at teachers. Staff and students could also pay to have henna designs painted on their hands, nails painted and one of the most popular stalls was NWH's theatrical make up stand, where Miss Parry and Aleeza Jabeen worked tirelessly painting scars and wounds on students' hands.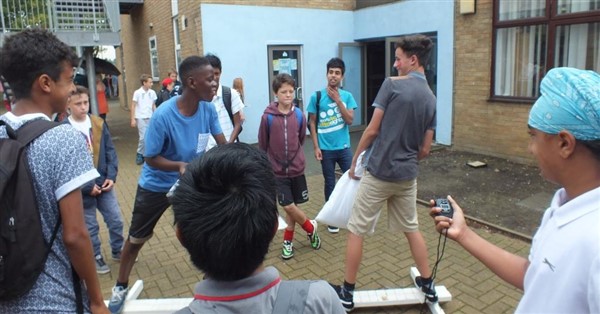 Other activities proving very popular included the timed Pillow Fight by NSN, Sticky Ball going on in the Sports Hall run by MCO with the winner getting £15 for the highest score and the Night Club run by ETCR in the Drama black box.
Gareth Keber, Head of House said "This is a fun way of raising money for local charities. The students are very motivated and have some very enterprising ideas. Despite the mixed weather conditions the whole event went very well, we are very proud of the students' hard work and commitment."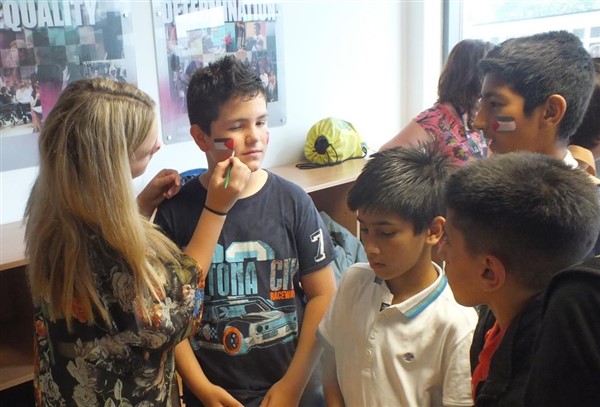 Despite the typically British summer weather conditions, the students' ingenuity, hard work and generosity have raised an amazing £2,372 to be split between the two charities. Congratulations to the winning tutor Group NMG who raised £182.29.
Well done to all staff and students for all their hard work and donations. We would also like to say a big thank you to all the local companies that have responded to student requests by supporting them with some very generous donations.