Celebrating The Amazing Achievements of Our Students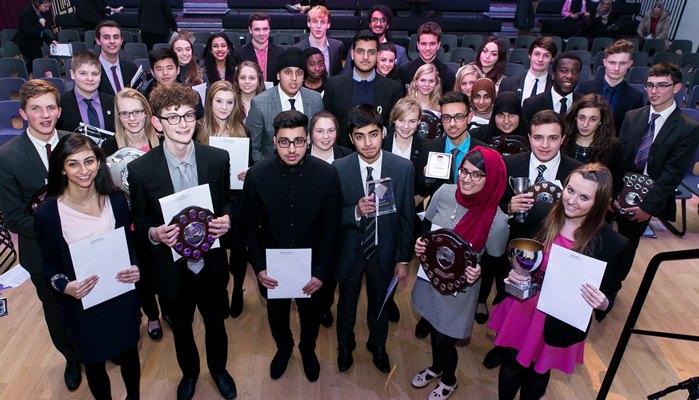 'Wow!', 'Brilliant!', 'Inspirational' and 'Humbling' – these were just some of the words used by parents and guests to describe our annual Presentation Evening on Thursday 18th December. The evening celebrates and showcases the amazing achievements and talents of students both academically and vocationally, with awards and trophies being presented to students past and present. We were delighted to be joined by guest speaker Sir John Rowling, Chair of The PiXL Group to present the awards.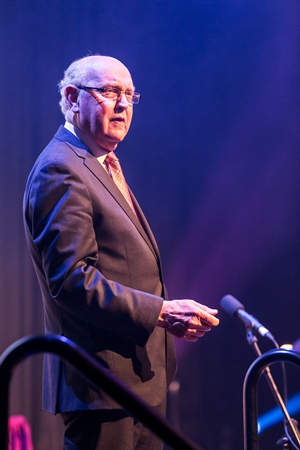 Alan Sadler, our new Chair of Governors, opened the evening, welcoming local dignitaries and Council members saying how very proud he was to be associated with the school. Headteacher, Pamela Kilbey went on to outline the highlights of the last year including the awards won by students, members of staff and the school as a whole. We were awarded the prestigious Diana Anti-Bullying Ambassador Award, Investment in People Gold Award and School of the Year from Living Sport. Jack Hunt was one of only eight schools out of 24,000 associations to be picked as being 'exemplary' by the Holocaust Educational Trust and our students have been described as "outstanding and inspirational" by SSAT.
Another source of pride is our links with the community and our fundraising activities, raising over £8,000 for charity this year and receiving a special award from Sue Ryder for raising over £10,000 in ten years. We also support two schools and two orphanages in Watamu, Kenya by providing them with educational toys made in Year 9 D&T lessons, clothes and equipment.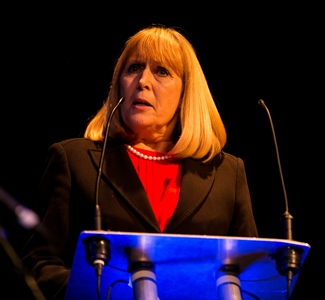 Mrs Kilbey summed up by saying "For the students here tonight none of this would have been possible without the support of your families, and your teachers and your own incredible hard work, resilience and determination. We are extremely proud of you and I know, that to achieve the results you did, you never gave up when faced with the challenges and you pursued excellence."
After making the award presentations, Sir John Rowling praised the event organisation and the schools achievements. He shared three main pearls of wisdom: "you don't have to be clever to be successful, and because you are clever it doesn't mean you will be successful"; "If you are successful it doesn't mean you will be happy, don't be seduced by celebrity and don't trade happiness for success, you can have both!" and, "Life is a team game remember a person wrapped up in themselves is a very small package and that parents and children are a team." He summed up by saying "You will change somebody's world in your lifetime, you can make it great or insufferable", "The school is full of people with passion and the future for it is very bright, you make it so with your teachers."
The presentations were interspersed with amazing musical performances from Jack Hunt students including the Senior Choir, the cast of the 2015 school musical 'Hairspray' singing 'You can't stop the Beat' and our very own Blues Brothers Ben Connolly and John Sangalang singing "Everybody Needs Somebody to Love", accompanied by the school's Soul Band.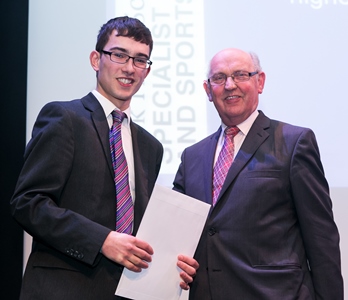 Major award winners of the evening included Sam Taylor who received three awards for his hard work, perseverance and dedication, exceeding all expectations to achieve outstanding A Level results. Also receiving three awards was Rachel Jeffries-Harris who is both a gifted mathematician and musician who combines the ethos of commitment, hard work and effort with her willingness to get involved, actively promoting and supporting school activities. She is both an outstanding student and an inspiration to others. There were also two double award winners, Andrew Attua Asante and Ahmed El Fath. Ahmed had already received the National PiXL Award earlier this year in recognition of his outstanding achievement in overcoming numerous challenges to achieve GCSE success.
Other award winners of note included James Newton for best GCSE results with 11 A*s and two As; Katie Phillips, who produced an undergraduate level research project for her Film Studies coursework which was praised by an external Ofsted Inspector who was astounded at the quality of project plus Sumayya Manji who achieved an A grade in French GCSE with the best mark in writing at A* level by the end of Year 9 followed by a Grade C for AS Level in Year 11 where she achieved the best mark of any student in two years.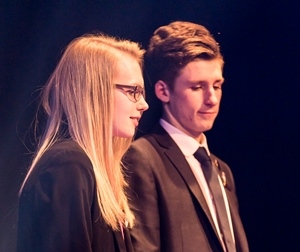 There were also a number of sporting awards: Olivia Nunziata and Edith Prosser for their contribution to school sport, having been outstanding role models and representing the school in a range of sporting competitions including netball, football, rounders, athletics, hockey, tennis, dodgeball and badminton! Oscar Sadikot for reaching the highest level of competitive sport – he made the country's top 25 in his age group for hockey and has been selected to train with the National squad. He also plays for Peterborough's 1st Team in the Senior Men's League, scoring on his debut. Lewis Tuck, Head Boy and a Platinum Sports Leader was also recognised for taking on on many leadership responsibilities from helping to co-ordinate the school's London 2012 Legacy work to leading city wide training at Peterborough's Sports Conference for teachers.
At the reception following the awards presentation, Councillor John Holditch said it was a "Brilliant evening with so many talented students" and, parent Mrs Kennedy commented "What a fantastic evening, Sir John Rowling blew me away and confirmed that it was the right choice for my youngest daughter who will be joining Year 7 next year". Proud parents of Sam Taylor went on to say "It is very humbling for a parent to hear the students' amazing stories - they are inspirational. The school is brilliant, they seem to be able to find a student's talent and really nurture it. For such a big school it has the real personal touch."
Profile of Sir John Rowling:
Sir John Rowling has spent many years in front-line education as teacher, deputy and then 19 years as a Headteacher and, now finds himself leading The PiXL Club which began in 2007 with 50 schools and now, has over 1150 secondary, 510 Sixth Form and 160 Primary Schools. The PiXL Club aims to support the promotion of excellence for pupils and is determined to do all it can to improve life chances for young people through improved educational achievement and enhanced self-esteem in order to connect them to worthy progression routes in the next stage of their education. He says that amongst his greatest joys is working with so many wonderful people.