Sixth Form ICT Students Inspired by Visit to Global IT Firm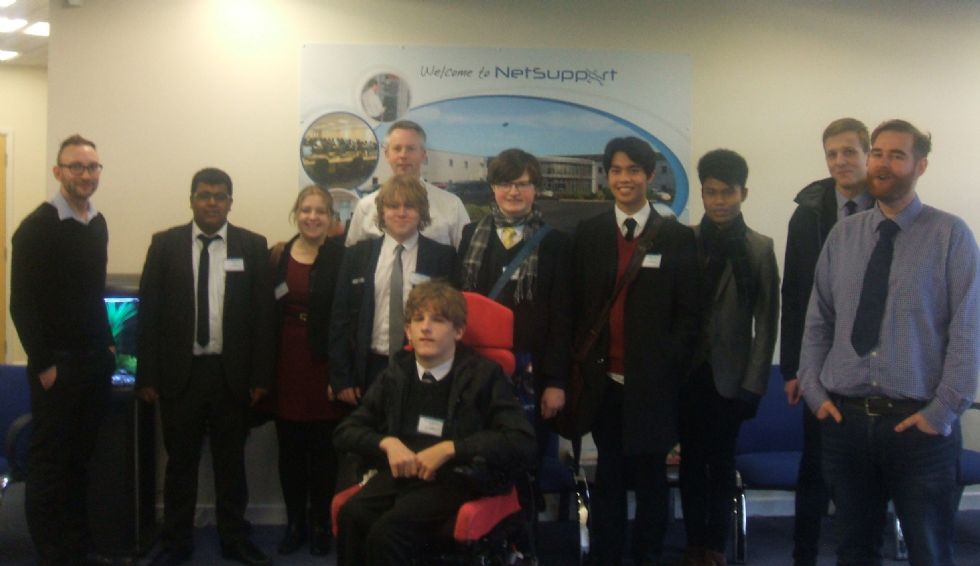 Our A Level ICT students recently visited international ICT company, NetSupport Solutions at their global headquarters in Market Deeping. This year they are celebrating 25 years of software development.
The group of Year 12 students spent a morning seeing why the company is at the forefront of developing innovative solutions to manage desktop computers and users. Their products are available in over 90 countries worldwide and currently support over 13 million desktops, servers and mobile devices.

NetSupport continues to be very supportive of the school and our students. A team of employees lead by Matt Jones took time out from their busy jobs to give an excellent tour of the facility and talk about their business, career paths and opportunities for a future career in ICT.
The visit was amazing and the students found the trip not only useful but interesting and rewarding.
Emmanuel Saraos said: "They were very friendly and they kept us engaged throughout the trip. They were very well prepared as they covered questions that we may not have thought of asking them. Overall it was a good experience and really made us think about what jobs we could do in a Technological based company."
Monica Basuc said: "Before the trip ICT was not one of the massive interests in career choice however, after seeing the diversity in job roles and different backgrounds all the employees had I realised that it doesn't matter if you know code or have the best knowledge of all technology. This has given me a lot more of an interest in going into a career in ICT as I have seen that careers with ICT can be really enjoyable and the people were great, so I found it to be a great experience."
Jack Humphries added "I found the trip to be quite interesting and I liked the size and scope of the building itself. The part I found most interesting is how the products actually come to be, how they go through different stages, it's much more complex then I had imagined."
Tu Kang Luong's feedback was "I thoroughly enjoyed the presentation that the Netsupport company gave us at the start of the day, I think it was a great introduction about their company and what they do. I also really liked that they've prepared their own questions so that they could give us as much information about different departments in their company."
Calum Daly commented that "It was informative and interesting. I learned what people usually do in an ICT workplace. My favourite part of it was the geeky room. It was really interesting and I'd love to learn how to programme and computer languages!"
Tomas Slekys ended with """I found the whole experience very interesting and it has drawn me to aspire to do this sort of job in the future. All the staff were friendly and offered info on how they work there and what they do."