Jack Hunt Wins National Youth Sports Trust Award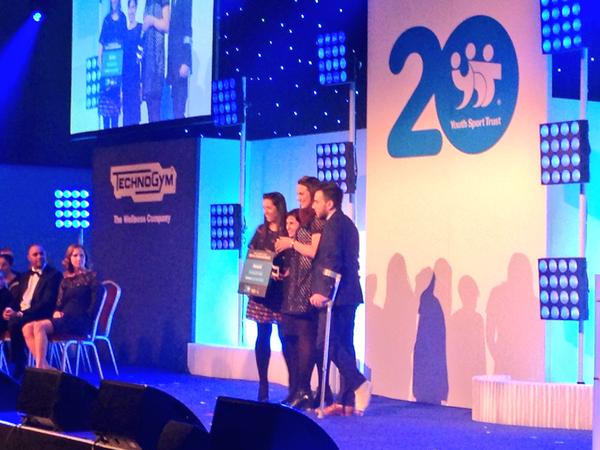 Last week Jack Hunt School was very proud to be awarded the "Bridging the Gap" Award at the 20th Anniversary of the Youth Sport Trust* annual conference.
The Award recognises the work undertaken to develop and strengthen students' leadership skills. Our sports department offers a range of qualifications and opportunities for students to practice and develop their leadership skills with a structured leadership pathway from Key Stage 2 to Key Stage 5 (ages 7 to 18), culminating in the Higher Sports Leader Award for Sixth Form students. The school also works very closely with Primary School partners helping to develop sport leadership skills in Key Stage 2 children.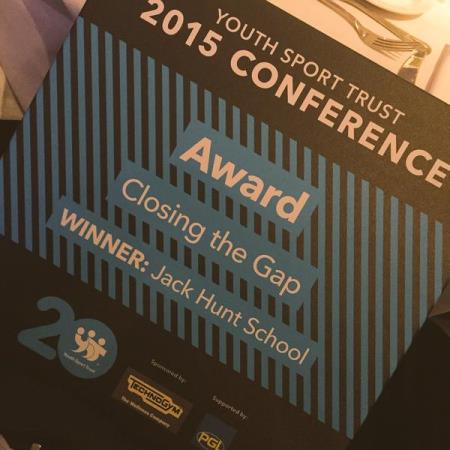 Mr Game, Assistant Headteacher said, "We are really proud of this Award. Leadership is an important aspect of our sports college work and is used to develop many employability skills in our students. It is always great to see students working together to plan and lead activities for others."
He continued to explain that "Having a sport specialism is important to the school and we have embedded this throughout the school as a tool for whole school improvement. We are particularly strong around leadership which started with sports leadership but has now progressed to all areas of the school. We believe that students develop vital life skills through informal and formal leadership."
All Year 9 students take a sports leaders course and there are many opportunities for informal leadership and mentoring in other curriculum areas such as Language, Art, English and Maths. These include Communication Leaders who are students selected for a particular reason and put in groups for specific activities. These groups provide training for other students, learn co-planning and observation, and even team teach lessons. Some students are trained as peer-tutors helping vulnerable students to prepare for exams or to supporting Key Stage 3 students.
Sports Leaders are also encouraged to use these skills by volunteering in the local community through schemes like the Duke of Edinburgh Awards.
Students recognise that through these leadership opportunities, they have improved self confidence, self esteem, planning, organisation and communication with peers, staff and primary students. The University of Bedford carried out a year long study at the school which showed "the general perception of students is that it does help with cohesion in the school as well as the local community. Students are given responsibility to work with younger children and this helps to improve behaviour in all lessons. Encourages group and team work which means students from different backgrounds have to work together towards a common goal. Sport is crucial to the new arrivals and is a way of including them very quickly, developing friendships and improving communication."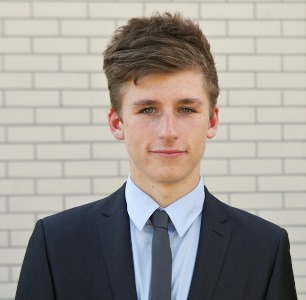 Year 13 student and Head Boy, Lewis Tuck said "The work I have carried out through the Young Ambassador Scheme has developed my ability to formulate relationships with a variety of age groups. This has been very rewarding and is a quality I will continue to use in later life, university and the work place."
Year 10 student, Jaiden Chavda continued "I feel that the Communication Leader Programme has benefited me in many ways. From talking in staff briefings and going to talking to the SSAT conference, I feel that I have gained confidence. I also believe that being a communication leader has helped me learn a teacher's perspective on teaching and school. Finally, I think that it has helped me to grow as a person working with different people and learning new things which will help me in the future."
*The Youth Sports Trust is a British charity organisation that supports the education and development of young people through physical education.