Next Stop No. 10 - Peterborough Youth MP Election Winner Announced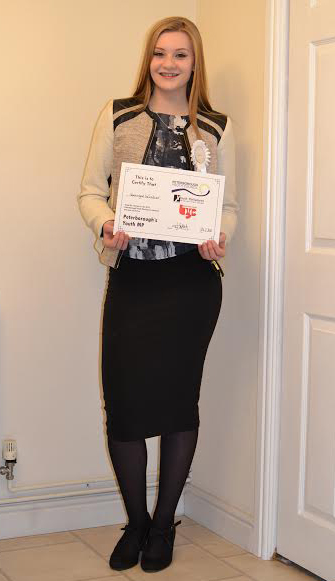 Congratulations to Year 12 student Georgina Windsor, who was voted in as Peterborough's Youth MP following the recent elections.
Georgina has been involved with Peterborough's Youth Council since September 2014 and that's where she heard about the Youth Member of Parliament elections. Georgina feels it is important that young people get involved in politics and felt the best way to show this was through getting involved and putting herself forward.
All the candidates attended a training day where they were given the opportunity to develop an election video (which is played in the schools taking part) and design their campaign posters. Georgina's campaign was focussed around education policies as she feels that all students should have a say in the education policy as any changes could affect them and their future.
Key elements of her campaign were:
to bring back exam re-sits in English and Maths.
to have careers advice and support for every student.
for work experience to be available for every student (as currently not all schools offer it) – which carries on the campaign message from the previous Youth MP.
The election was open to all 11-18 year olds in Peterborough and uses block voting with each student having 3 votes. 4569 votes were cast over the five schools that took part and the winner was announced on Tuesday 24 February. Georgina came in joint winner with 1932 votes so, in traditional style both names were put in a ballot box from which Georgina's name, the winner was drawn.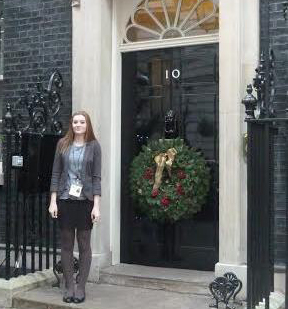 "I am very proud to have been elected as the Youth MP for Peterborough and am looking forward to working with the other Youth MPs on our manifesto and influencing government policies over the next year," said Georgina. "It will be the second time I will be spending time in Parliament," she continued "as I was lucky enough to do my work experience working with local MP Stewart Jackson and even visited No 10 Downing Street. I am hoping to study Politics and Quantitative Research Studies at University so this is a fantastic opportunity for me."
Georgina has already had a few meetings with local MP Stewart Jackson before she attends a residential course in April where she will meet the other Youth MPs from all over the UK. This is an opportunity for the students to get to know each other and share their campaigns before creating their manifesto. The real work starts now…