Vote Now! Help Citizenship Students to Get Their Law Discussed in Parliament

This year, as part of the Active Citizenship club and, in preparation for the forthcoming general election, students have participated in the national Lights Camera Parliament competition. The competition, run in conjunction with the Houses of Parliament Education Service and the British Film Institute, is designed to encourage students to develop a greater understanding of the role of Parliament, creating new laws and put into practice their campaigning skills.
Students are encouraged to campaign in order to gain as many viewings as possible, whilst also considering originality of idea, the reasons to change this law, using persuasive language and who would benefit from the law being created.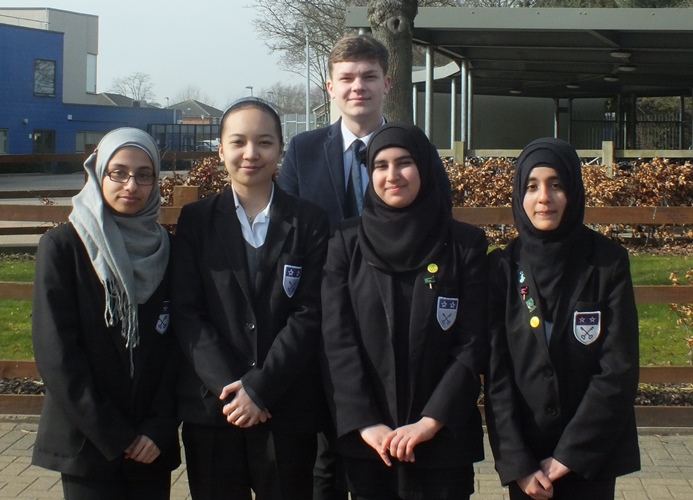 Alanas Achmetovas (Year 12), Favy Lamprea (Year11), and Year 10 students Kaynat Chaudhry, Frohar Ehsas and Asma Shakir have researched, made and edited a video outlining their idea for a new law. They have argued that alongside academic qualifications, schools should be encouraged to offer wider opportunities (such as work experience, career talks, alternative curriculums, mentoring programmes etc) and for it to be recognised on the national school league tables.
As part of the competition, they need to get as many viewings of their short video as possible by Friday 27 March 2015. To view their short film and register your viewing please click here.
Should they win, not only will they be invited to an awards day at Parliament including a tour of the Palace of Westminster, they will also have the opportunity to discuss their law with Members of the House of Lords and their video will be shown at a showcase event at the British Film Institute.
Emily Morgan, teacher of Personal Development Education said, "This is great opportunity for students to understand about how to actively promote their ideas, to understand how both Parliament works and how ideas for new laws are developed. Students have researched and debated amongst themselves how to put this idea into practice. We really appreciate your support in helping us to get as many viewings as possible as they have worked so hard to put this together."