Sameer Ends Boxing Season with a String of Wins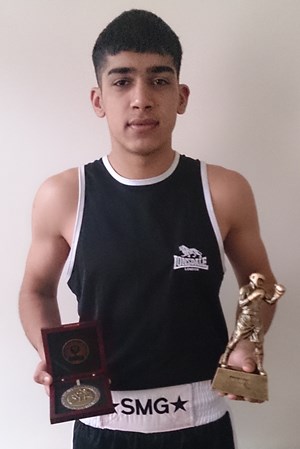 Year 11 student Sameer has ended the season on a high with a string of wins under his belt. He only started boxing two years ago when he joined the school boxing club, with the goal of becoming stronger and more controlled.
He had been inspired by his role model, Olympic boxer Amir Khan who he and his family have been watching compete since he was 10 years old. Sameer wanted to be successful like Amir with people watching him winning boxing matches and winning trophies and medals.
At the first session, the trainer asked Sameer how long he had been boxing, when the response came that it was his first session the trainer was very surprised and suggested that Sameer should take it up seriously as he had some skill and talent. Sameer then joined Stamford Boxing Club where he trains twice a week supplemented with training at a local gym for the other four days.
After losing his first fight Sameer trained even harder and has now won four fights in a row, including one in Norwich and Dudley. Following his fight in Norwich, he won the 'Fighter of the Night' Award for being the best fighter of the evening.
Sameer has already started training hard for the start of the new season in August, which he hopes will be even more successful. "Boxing keeps me out of trouble and has given me the skills to focus and keep better control of myself" he says. "I really enjoy training and taking part in the competitions. I am hoping that I will soon make selection for the British team and my goal is to qualify for the Olympic Team, like Amir Khan."