Year 13s Celebrate the End of their School Career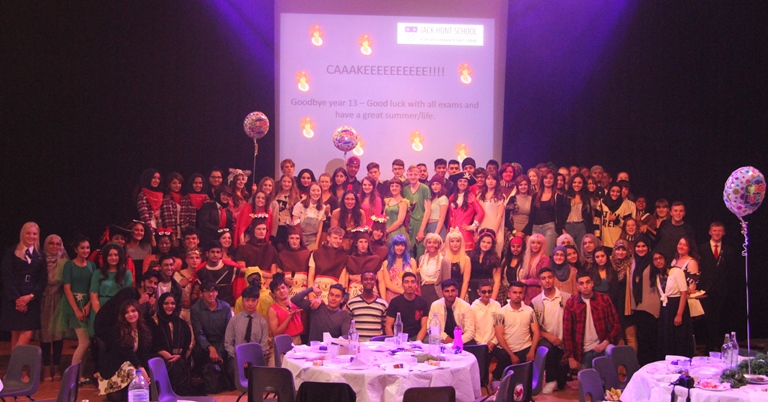 Year 13s enjoyed celebrating their last official day at Jack Hunt School yesterday by wearing fancy dress. Many of the students put a lot of effort into their costumes including Willie Wonka and his Umpa Lumpas, the Studmeister Bottles, the cast of Peter Pan and Mary Poppins and her Chimney Sweep.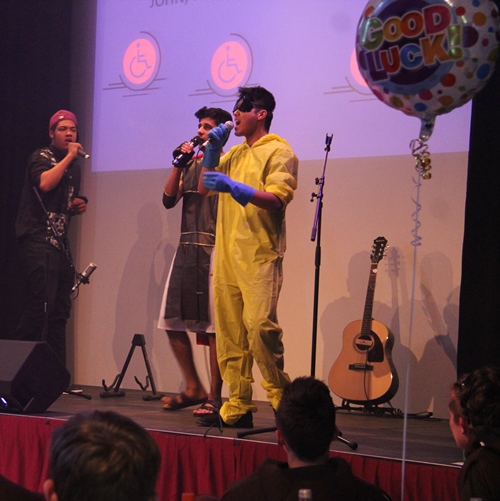 At the Celebration Assembly in the afternoon the students were entertained with musical performances from Mollie Tadd, playing two recorders and, rapping students Hamza Ali Ahmad, John Sangalang and Tyrell Mason. Head Boy Lewis Tuck read a poem and students Mwiza Mhango and Max Bradbury caused much laughter competing against each other in a take on "I'm A Celebrity.... Get Me Out of Here!" eating spam, lemons, fish and drinking an unknown disgusting concoction with Mwiza, renowned for eating anything, reigning supreme.
Prizes were awarded for student costumes including:
Group Costume Winners - the Shrek Gang
Individual costume winners included Gurmaire Kaur for her Jack Sparrow and Dariusz Chlipala and Hamza Ali Ahmad for their Roman Emporer and Centurion costumes.
The prefect team ended the awards with the annual "Little Miss / Mr Men" awards which included titles such as Little Miss Chatty, Little Miss Virtuoso, Mr Happy, Mr Wise Crack, Little Miss Sunshine and Mr Fashion....
Head of Sixth Form Mr Fricker and Head Teacher Mrs Kilbey, praised and thanked the students for all their hard work over the years, their commitment to both the school and the local community. They ended their speeches wishing the students well on their future education and careers offering them words of encouragement and wisdom.
Visit the Gallery to see more photos of the event....