Audience Enjoy Concert Organised by Year 9 Musical Futures Students

Year 9 music groups have spent the last year following the Musical Futures style of learning, encouraging more independent learning as well as working as a group. The students get a real feel for all elements of the music industry. They lead their own learning, with support from teaching staff. The focus is on forming groups, selecting music and performances as well as learning new instruments. Students also learn about the technical side of the music industry in readiness for their end of year concert which they organise from scratch.
The students are responsible for the whole production of the end of year concert from staging, lighting and sound to the choice of music and style of performances. They work closely with their Music teachers Miss Hardy and Mr Amos, supported by the school's Audio Visual Technician Mr Tate.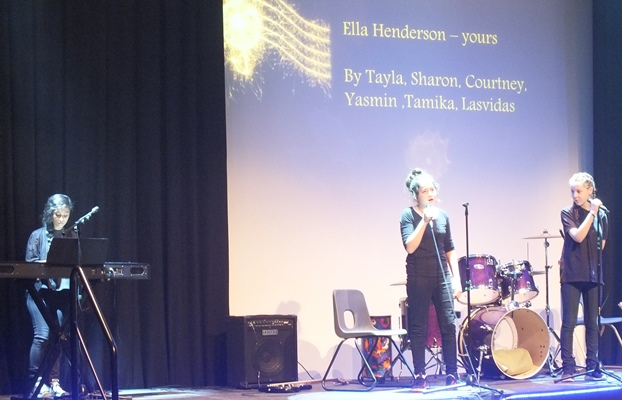 A wide range of music had been selected by the performers and there were some fantastic performances. The all boy band – Alpha gave a very lively performance of the Kings of Leon classic 'Use Somebody' which involved good performances on drum, guitar and keyboards. The group Illusion got the audience clapping along to their version of 'Home' and there was beautiful rendition of Ella Henderson 'Yours' by Diversion.
The evening ended with some lively Indian drumming from Raja and Josh, followed by a very moving performance of 'Flashlight' from the whole group, with fellow students joining the performers on stage and in the audience waving flashlights.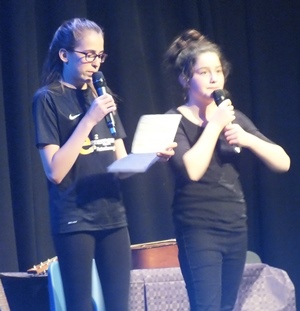 Students, Yasmin Roberts and Charlotte Williams did a fantastic job introducing all the acts and performers as well as performing in their own respective groups. Yasmin said"I was really pleased how it went, it was good fun and we got some really good feedback. I have really enjoyed doing Musical Futures – particularly working in groups and learning new things – like I didn't know how to play the drums but I got to have a go playing them for one of the songs we practiced."
Charlotte said "I was really nervous before the concert but really enjoyed it. During the last year we have had so much opportunity to experiment with new instruments and try things we haven't done before. I really enjoyed the independent learning and collaborating with the others and have become more confident with performing."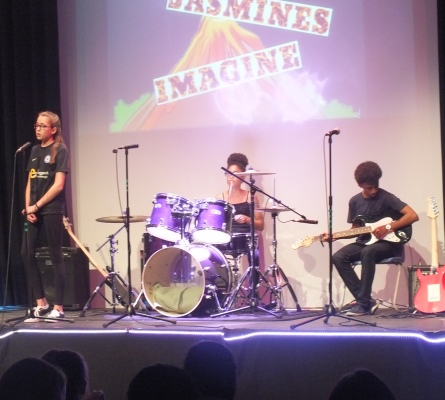 Shanae Mason, who was part of the first group on stage on the night commented "It was amazing! Musical Futures has really helped me to sing and perform with more confidence and I took on more challenges like learning how to play the piano."
Music Teacher, Mr Amos, who has supported the group through the year said "This was my first Musical Futures concert at Jack Hunt School and I am hugely proud of the students for all their efforts. Many of the students who performed had picked up a guitar or drumsticks for the first time at the start of this year and, by the quality of performances, the audience would never have guessed! Many thanks to all the students, parents and staff involved in a wonderful night."