''My Fair Lady'' at Jack Hunt School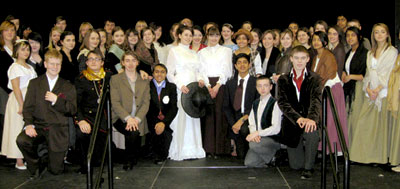 Jack Hunt School continued their 40th Anniversary celebrations with four captivating performances of the Lerner and Loewe Musical 'My Fair Lady'. This much loved show, packed with show-stopping tunes, is the musical theatre re-telling of a very old story, dating back to a Greek myth.
Over 100 students, staff and friends of the school were involved in this 13th consecutive annual production. Forty plus students performed before packed audiences in the school's Assembly Hall, supported by musicians (students, staff and friends) led by Musical Director, John Walmsley. Front of house, including ticket sales, was run by Year 11 students; stage management, sound and lighting were all organised by students, staff and a handful of ex-students;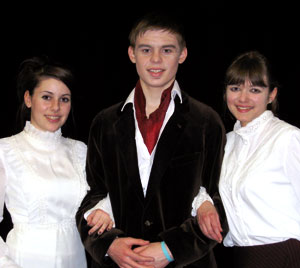 costumes, props and set were all custom-made by creative teams of staff and students. The beautiful hats for the famous Ascot scene were designed and made by Ann Bellamy and her workshop participants at HMP Peterborough.
The plot tells of the transformation of an East-end flower girl, Eliza Doolittle, by improving her speech and manners to the point where she could be passed off as a lady at an Embassy Ball. As such, she is the subject of an experiment by a professor of phonetics, the irascible Henry Higgins who is challenged by his friend, Colonel Pickering. The big question is, of course, whether or not better speech makes you a better person. Eliza was played with great comic acting and excellent soprano singing by two Year 12 students, Rebecca Lodge (Tuesday/Friday) and Sophie Noakes (Wednesday/Thursday).
"Both girls performed so strongly at auditions, it was impossible to choose between them," said Director-Producer Maggie Keber.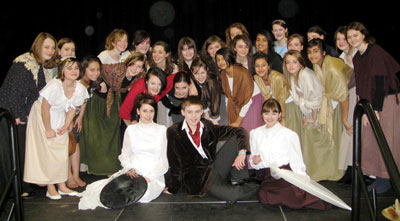 The arrogance and bumptious bad-temper of Henry Higgins, ending in the touching realisation that he couldn't manage without Eliza, was perfectly captured by Conor Merrygold (Year 12). Sean Tipping (Year 13) was magnificent in the role of the kindly Colonel Pickering – his comic timing was a real joy. Eliza's irrepressible father, the hilariously verbose Alfred P. Doolittle, was skilfully portrayed by Ajesh Mistry – his encore of "Get Me to the Church on Time" had the whole audience clapping and joining in!
"This was a surprisingly difficult production to stage," Maggie Keber commented. "After months of hard work, nightly and week-end rehearsals, we were all absolutely delighted with the outcome. This kind of project brings out the best in all concerned."
Research is now underway to find another challenge for 2011 – watch this space!