Twinning with Kerewan Secondary School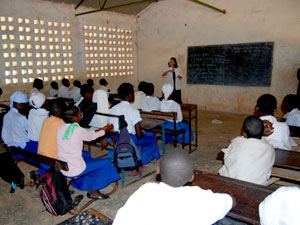 In 2005 I decided to take a rather belated gap year and headed out to Namibia as a volunteer with Raleigh International. Whilst on this project I met several people who inspired me to continue my links with Africa when I returned to the UK and a group of like minded people formed an organisation called CDA (Community Development in Africa) which raises money for projects in two villages in Africa, Kerewan in the Gambia and Mooni in Uganda.
We copied Oxfam's idea of selling gifts at Christmas and held a variety of fund raising events. Three years later over £30,000 has been raised which has gone towards a goat farm, a water project, rain water harvesting, bikes for community workers in Uganda and we worked with our partners in the Gambia, The Association For Child Education, (TAFCE) to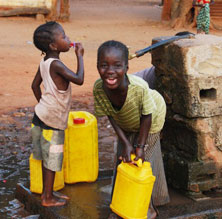 provide equipment for the primary school. We provided a water pump to the nursery school and raised money to build a skills centre where the school leavers of Kerewan will be able to learn IT and carpentry skills to try and reduce the number of young people leaving the village to go and sell cheap goods on the beach to tourists.
Whilst visiting the skills centre at Christmas I met a former teacher from the secondary school and the idea to twin the two schools was born. Some of our Year 7 RE students wrote letters and took photographs of themselves, their friends and family and the school and in February I took these, along with 17 disposable cameras out to the Gambia and met with the Headteacher of the Secondary School. He selected 17 of his students who returned the next day with letters and photos of their every day lives. In a lesson later that day I worked with other students who received the letters from Jack Hunt and wrote replies.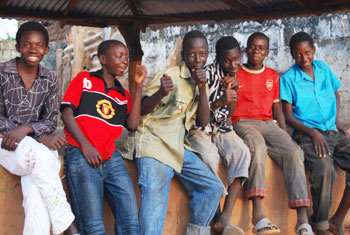 Because the Gambia used to be a British colony the language of trade and business remains English and all lessons are taught in English which made my job much easier.
I returned to the UK with a clutch of letters, some school tshirts and hundreds of photographs. It is hoped that the twinning of the two schools will provide a valuable cultural exchange between the two countries and in the future we would like to participate in a teacher and maybe a student exchange. We have much to learn from each other.
If any Jack Hunt students would like a Gambian pen pal they should come and see me as I have lots of letters written from the Gambian students. We are continuing to fund raise for the school, village and the skills centre that we have raised the money to build and if anyone would like to donate to the project they should contact me (Miss Fawcett). If anyone is planning a holiday to the Gambia and would like to visit the school, again, please contact me and I can provide details. Photos of the project and people involved can be viewed in our website Photo Gallery or by clicking here.
Miss Fawcett