JHS Celebrates Urdu Speaking Countries Day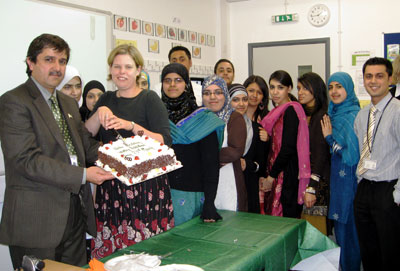 Jack Hunt School celebrated Urdu Speaking Countries Day on 23 March 2010. Urdu Students from Year 10 to the Sixth Form organised different activities including quizzes and gave presentations on the history and culture of Pakistan to Year 8 students.
Later in the afternoon Mr Muhammad Nawaz, Head of Urdu with the help of Mr Ali Shehzad and Mr Ali Hammad arranged traditional Pakistani food and music which was enjoyed by Governors, staff and students.
Ms Ruth Hopkins, Curriculum Area Leader for Modern Foreign Languages, Mrs Kate Norman, Language College Director and Mr Muhammad Nawaz cut a special cake to celebrate the Urdu Speaking Countries Day.
Mr Muhammad Nawaz said, "This is a significant event on Jack Hunt's School calendar with 270 Year 8 students and 84 Tutor Groups participating in some way. The Language College would like it to be even bigger next year".